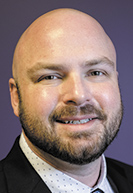 Chris Handberg, executive director of Indy Pride Inc. for the past four years, plans to resign at the end of the month, the organization announced Thursday.
Handberg cited "developments in his professional career" for the decision, Indy Pride said.
The organization, best known for the annual Indy Pride Festival, said it is "actively engaged in dialogue with multiple candidates" to replace Handberg, and has assigned interim responsibilities to Board President Tanner Alexander and other board members. Handberg will serve as a consultant to the not-for-profit during the search for his successor.
Handberg, 41, became Indy Pride's first executive director and first paid employee when he was hired by the not-for-profit in June 2017. The organization has seen significant growth under his leadership and improved community engagement.
"We owe much of Indy Pride's success to the outstanding leadership of Chris Handberg," Alexander said in written comments. "As the board and I plan for the future, we want to listen to our community to learn how Indy Pride can continue to be the best resource for LGBTQ+ folx. We will continue to program and host the stellar events and activities we are known for, and we are excited to use this time of transition to listen to the community."
Indy Pride just wrapped its 2021 virtual festival last week with more than 35,000 attendees. It is moving forward with its in-person parade planned for October and is working to set a date for the fourth annual Indy Pride Career Fair.
Handberg previously worked at the Domestic Violence Network and The Julian Center and was a youth pastor in Anderson.
"When I started, Indy Pride wanted to move beyond being 'just a festival' to an organization that provides meaningful engagement with its community, establishes strong partnerships with organizations, and has a foundation to better the lives of LGBTQ+ people across Indiana. I believe we have seen major growth and accomplished those goals. I am ready to have a personal shift of focus and remain excited to see what is next for Indy Pride."
Please enable JavaScript to view this content.