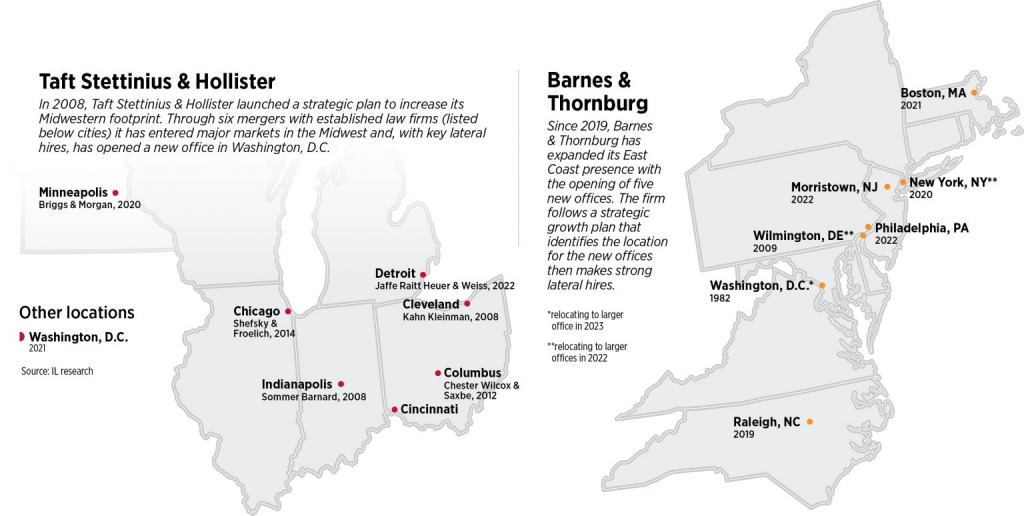 September began with two law firms that have offices in Indianapolis announcing they were expanding into new markets, providing another indication of the legal industry's increasing appetite and pressure to get bigger.
The announcements by Taft Stettinius & Hollister and Barnes & Thornburg also reflect two different approaches to law firm growth.
Taft is spreading its Midwestern footprint through a merger with Jaffe Raitt Heuer & Weiss in Detroit. Barnes & Thornburg is extending its reach on the East Coast by opening new offices in Morristown, New Jersey, and Philadelphia and stocking both locations with teams of lateral hires.
Even as the pandemic created upheaval in the legal market by cooling what had been very hot merger activity prior to 2020, then sparking a level of demand in 2021 that raised law firm revenue to record levels, consultants say the forces that drove growth before COVID-19 are still at work today. A key pressure is the need for talent.
"Law firms, like businesses in many other industries, are increasingly recognizing the benefits of scale," Kent Zimmermann, principal at the Zeughauser Group, said. "They're realizing that in competing for great lawyers, both to attract them and to retain them, larger and more profitable firms tend to have an advantage if they're competing for the same people."
Zimmermann and Kristin Stark, principal at Fairfax Associates, both said they do not see the situation abating in the next few years. Client demand for greater legal expertise and higher levels of compensation have law firms looking for more revenue, which often leads to managing partners looking for ways to expand.
Paychecks grew as firms scrambled to cover the amount of work generated in 2021. A mid-2022 report by Citi Private Bank found a 17.5% increase in compensation expense was primarily due to lawyers getting paid more than in 2021.
Also, clients have intensified the war for talent by looking more broadly at how many quality lawyers a firm has among its ranks.
"Clients frequently in client interviews are saying, 'In addition to depth of expertise, we also want to see bench strength, meaning you have enough people that you're able to handle the magnitude of matters we have in this type of practice,'" Stark said. "…So bench strength is a new kind of added challenge from the growth driven out of the pandemic."
Survival can depend on growing, but law firms have limited ways to expand. Zimmermann noted they can get bigger either by recruiting new lawyers and nurturing them into partners, luring groups of laterals who have worked together at a different firm, or combining with another firm.
Mergers have the advantage of lower upfront costs while bulking up a firm's size relatively quickly, according to Zimmermann and Stark, who spoke in general terms and did not make specific references to Taft or Barnes. Hiring a team of attorneys from a competing firm is becoming a common strategy, but it is expensive and difficult to execute.
Stark explained the main hurdle to lateral hiring is money. Firms must have the financial fortitude to offer more compensation to lure an attorney as well as to wait the 90 to 120 days before payments start flowing on the new hire's invoices.
"As these large firms have grown increasingly profitable, it's become … harder for firms that aren't as profitable, oftentimes small- and mid-sized firms, to realistically compete for that talent," Stark said. "So, it's kind of contributing to some of the appetite for merger that some of these small firms have."
Zimmermann pointed to the advantage of compounding as causing firms to push on the accelerator for growth. Because larger and more profitable firms start at a higher base of revenue each year, they will continue to add to their financial strength at a greater pace even if other firms see their revenues increase at the exact same percentage rate.
"So that adds to the urgency to hit the accelerator and the extent to which they need to hit the accelerator," Zimmermann said. "The larger, more profitable firms have a talent advantage, and the bigger the gap on size and profitability, the bigger the advantage."•
Please enable JavaScript to view this content.