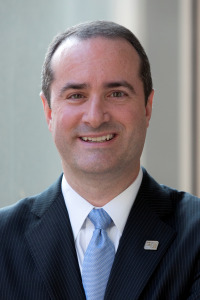 Kevin Hipskind, 52, who has been Fifth Third Bank's Indianapolis-based market president since January 2018, has been promoted.
Hipskind becomes head of middle market execution and delivery at the bank. He will remain in Indianapolis for the role, which involves driving strategy and working to grow the bank's expansion markets. Hipskind has been at Fifth Third since 2002.
Fifth Third's new market president is Michael Ash, 51, who has more than 29 years of banking experience. Since 2015, Ash has served as Louisville regional president.
Ash is in the process of relocating to Indianapolis and is expected to be here this fall, the bank said.
Ash joined Fifth Third in 2003 as part of the bank's Indianapolis commercial banking team. He moved to Kentucky in 2010 where he served as Fifth Third's Lexington market president.
Both promotions take effect immediately.
Please enable JavaScript to view this content.