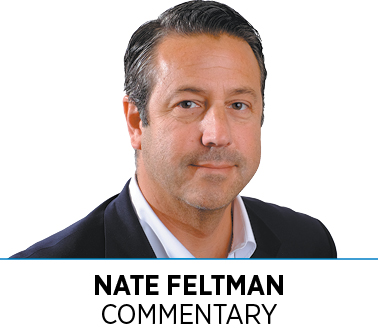 Hoosiers are doing their part to get through the pandemic that threatens our health and economic well-being. It is natural to feel uneasy about our future. But challenging times also present a rare opportunity to reflect on what is most important and to witness the best of humanity. Amid the pandemic storm, there are rays of sunshine that can help lift all our spirits.
◗ More family time. Canceled meetings and travel plans and more time at home with family are opportunities to reconnect with the people who matter most. We all have had to rethink our daily routines, giving us a chance to reprioritize how we spend our time. Since many of our free-time options have been eliminated, I exposed my kids to my youth by watching some of my favorite 1980s movies with them: "Back to the Future," "Ferris Bueller's Day Off," "Trading Places" and "Spies Like Us." They loved them all!
◗ Thankful to be a Hoosier. While no place is immune in a pandemic, having more physical space is an asset when social distancing is required. Residing in dense urban mega-cities like New York and Chicago appear to put one more at risk. As a former resident of Chicago, I had many reasons to choose Indy as my permanent home: great place to raise kids, more affordable, less time in traffic/transit, high quality of life and tremendous professional opportunities. I can now add one more to the list.
◗ Break from politics as usual. Most of us have grown tired of the partisan bickering and the inability of our elected leaders to find common ground on issues that are critical to America's future (e.g., spiraling national debt, infrastructure, immigration). Both sides are to blame for the name calling and childish behavior.
We all were bracing ourselves for a brutal presidential election year where party politics and boorish behavior would be on display all year. While there are those who, despite the crisis, continue to play politics, many are putting politics aside and are working in a bipartisan manner to ensure that we get through this with the least possible damage. It is encouraging to see Republican President Trump, and New York's Democratic governor, Andrew Cuomo, working together to tackle our nation's worst-hit city, New York.
◗ Community spirit and giving. Indy is known for volunteerism and civic engagement. Our business leaders are often the first to step up when their energy, philanthropy and know-how are needed. Colts owner Jim Irsay led the way by challenging the Colts nation to raise $200,000 for Gleaners Food Bank to help feed children and families who are out of school and work. The goal was easily reached in 24 hours, and Irsay donated $1 million to Gleaners. Craig Huse, owner of St. Elmo's and Harry & Izzy's, is delivering meals to local hospital staff. Ryan Rans, owner of Ruth's Chris, is delivering dinners to family members staying at the Ronald McDonald House. Despite dealing with their own business challenges, Hoosiers are stepping forward to serve in times of crisis.
◗ Greater appreciation for first responders. The crisis has once again reminded us of the selflessness of those who choose to be on the front lines during national emergencies. Our emergency and health care workers put themselves and their families at risk every day and are not sheltering in place like the rest of us. Heroes are everywhere if we take the time to look.
Thank you to our state and civic leaders, first responders, health care workers and volunteers for all you are doing to protect Hoosiers. Your inspirational leadership and service will help lead us to better days soon.•
__________
Feltman, a former secretary of commerce, is a shareholder in IBJ Corp. To comment, send email to nfeltman@ibj.com.
Please enable JavaScript to view this content.