COVID-19 is spread mostly through the air, and a company called Energy Harness says it has developed technology that uses ultraviolet light to remove the pathogen from indoor spaces while people are present.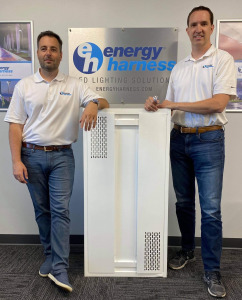 The company, which is based in Florida but calls Zionsville home for its Midwest sales and installation center, will be putting its Active Airflow UV-C Fixture to the test in Beech Grove, Franklin Township and other Indiana school districts beginning in late August.
Energy Harness describes the product this way: "The Active-Airflow fixture circulates room air many times per hour through encapsulated UV-C light eliminating pathogens while keeping humans safe. Built with advanced solid-state LED technology, it delivers precise UV-C dosages for effective, quiet and reliable operation. By applying LED technology to the science of how ultraviolet light affects micro-organisms, we have developed a system to effectively protect indoor areas, and the people in them, against airborne pathogens."
The 2-foot-wide-by-4-foot-long-by-6-inch-deep units are installed in place of ceiling tiles and wired to a room's lighting circuit. When the lights come on, so does the Airflow unit. Air is sucked in via fans and filtered through a UV-C/LED maze. As the air passes through, DNA is deconstructed and comes out free of pathogens, the company says. The ultraviolet light in each unit can be set to different levels to eradicate specific viruses.
"We can never guarantee that this is going to keep everything COVID-free," said Patricio Daneri, Energy Harness's managing director. "What I can guarantee is that it will cycle the air multiple times per hour, cleaning everything in its way. Any odor, any pathogen. That, along with surface cleaning, we believe at this time is the absolute best way to fight the pandemic."
Energy Harness started in 2010 as an LED lighting manufacturer and installer, replacing lights mostly in schools, and that's still a majority of its business. But when the pandemic hit, the company asked its scientists and engineers to design a lighting/filtration system for its customers.
UV-C technology is already being used to combat COVID in such settings as airplanes. But those systems can only be used when the planes are empty because exposure to ultraviolet light can be harmful to people.
"Our system is the only one to our knowledge that can operate while people are in the room," Daneri said.
The cost is $3,995 per unit, though Daneri said rebates and federal funding are available to lower the price.
Fred McWhorter, chief operating officer for Franklin Township Community School Corp., said his district bought 24 units—two for each of its 12 buildings. They'll be situated in the nurses' offices and designated quarantine rooms.
"It's belt and suspenders," he said. "We've already addressed the PPE (personal protective equipment) with masks and sanitizers and cleaners and hand sanitizers and partitions and all that. We just thought we had the ability where we could do it, and we thought from a health standpoint it would probably be the best thing for our nurses and for our students."
Beech Grove City Schools will have 15 units scattered throughout its five buildings—in the nurses' stations and select classrooms, Director of Operations Tom Gearhart said. Beech Grove had worked with Energy Harness to replace its fluorescent lights in classrooms and hallways "and have been very satisfied with them as an organization." So when Daneri told district officials about the UV-C fixture, they were interested.
"This unit goes in the ceiling and runs full time and turns that air over during the day when we have human beings in the building," he said. "So that's what appealed to us about it."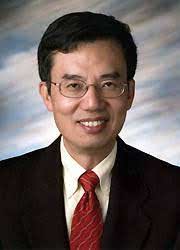 Qingyan "Yan" Chen, a professor of mechanical engineering at Purdue University who's been studying the spread of infectious diseases in enclosed spaces for 16 years, said ultraviolet light is an effective method of cleaning air. But he wondered if schools would need more than one Energy Harness unit to clean an average-sized classroom.
Energy Harness's initial specifications show that its optimum coverage area per fixture is 256 square feet, and "I'm afraid that the amount of clean air it produces is not very high," Chen said. "If you use one unit per classroom, it's really on the low end."
He also wondered whether a HEPA purifier air cleaner might be similarly effective but at a fraction of the cost.
Daneri, whose company plans to be producing 5,000-10,000 fixtures each month by the fourth quarter of this year, said Energy Harness already has redesigned the unit to cover spaces of as much as 750 square feet. He also said HEPA filters are not as effective as UV-C for cleaning the air.
"What we have developed is a big deal," Daneri said. "We are confident it's a world-changer."
Please enable JavaScript to view this content.