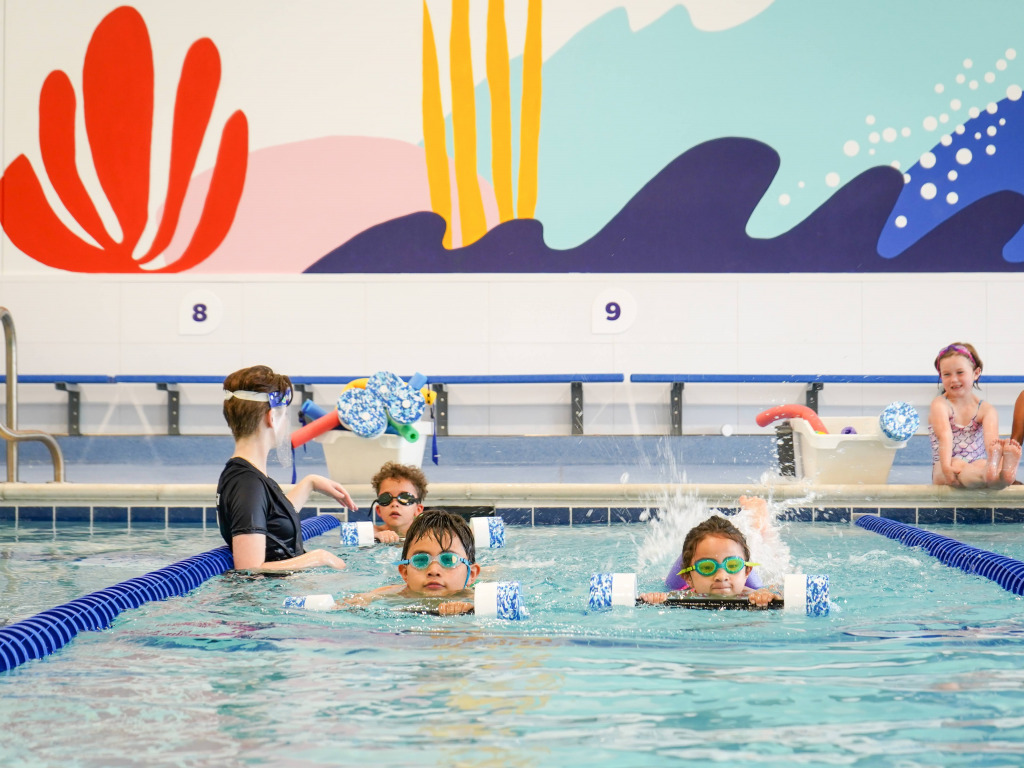 Big Blue Swim School, a chain of instructional facilities for children ranging from 6 months to 12 years, is set to make its Indiana debut in early 2023.
Carmel-based franchisees Gavin and Tara England plan to open a Big Blue Swim School at 13920 Hoard Drive in Noblesville, at the former site of a Stein Mart in Hamilton Town Center. Stein Mart closed all of its stores, including four in the Indianapolis area, late last year amid bankruptcy.
The husband-and-wife team plans to open five Big Blue locations in the Indianapolis area, with Avon on deck after Noblesville.
Gavin England, who grew up in Kokomo and attended Indiana University, said he and Tara researched the learn-to-swim industry as a way to phase out of their respective careers in financial services.
"One of the big requirements we had was that we didn't want to just jump into something because it was a good investment," he said. "We wanted it to be somewhat community-minded."
Big Blue Swim School, founded in 2009 by former University of Michigan swimmer Chris DeJong, touts the teaching of skills to make children "feel confident in the water." 
A Big Blue facility includes two pools that are temperature controlled at 91 degrees. Thirteen swim lanes allow simultaneous classes among age groups.
Tara England said Big Blue's scheduling software, known as LessonBuddy, is a time saver for families.
"Instead of saying, 'OK, all the 5-year-olds go at 4 p.m. on Tuesdays,' every age group is going every 30 minutes," she said. "The swim lessons are half an hour. If you have a 7-year-old and a 3-year-old, you can bring them and knock out their lessons at the same time."
Between 2,500 to 3,000 lessons can be taught in a week, and a Big Blue location can employ as many as 30 staff members.
The first Big Blue Swim School opened in the Chicago suburb of Wilmette, Illinois. Presently, at least 10 facilities are open in Illinois, Georgia, Colorado and Virginia. Dozens of additional locations are in the pipeline through franchise agreements. Franchisees, on average, make a total investment of $2,3 million to $3.6 million to open each location.
In central Indiana, Big Blue will enter a market that already includes learn-to-swim chains British Swim School, Goldfish Swim School and Aqua-Tots.
Tara England said she believes there's room for Big Blue.
"We think the swim lesson market is really underserved," she said. "There are tons and tons of children and healthy demographics for young families."
Gavin England said he appreciates Big Blue's philosophy of opening swim schools where people gather. The Hamilton Town Center location, for instance, will be next door to a JCPenney store.
"We try to make sure we pay a premium for the real estate to be near a major draw or anchor tenant," he said. "We really try to make it as convenient as possible."
Please enable JavaScript to view this content.