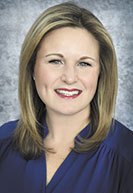 First Internet Bancorp Chief Operating Officer Nicole Lorch, who has been with the Fishers-based banking business since its founding in February 1999, will take over as president, effective July 1, the company announced Thursday.
First Internet founder David Becker, 67, will give up his title as president at the end of the month, but will remain in place as CEO and chairman.
Lorch, 47, who started at the bank as director of marketing, has held a variety of roles since then and has served in her current role since 2017.
"Nicole has been an important member of the leadership team, contributing significantly over the years to our growth and success," Becker said in a written statement. "She possesses the ideal combination of talent and strategic vision. Her unique ability to create innovative solutions, analyze complex issues and communicate effectively has been apparent throughout her career. I am certain the bank will continue to thrive under her leadership."
First Internet, which operates with no branches and no branded ATM machines, was the nation's first online-only bank. The company, which offers commercial, small-business, consumer and municipal products and services to customers nationwide, has assets of $4.2 billion and about 255 employees.
Please enable JavaScript to view this content.