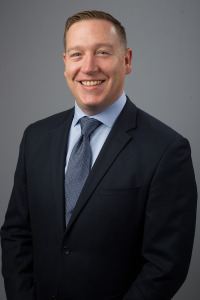 Mark Fisher, the Indy Chamber's chief policy officer, will become the chief executive of the Indiana Association of Realtors.
In announcing Fisher's selection on Thursday, the real estate agents association praised his experience in a wide range of policy matters important to the group and its members.
"With Mark's experience in economic and community development, transportation, local government, and fiscal policy matters, he's poised to hit the ground running and take the association to the next level, which is to help make our state and communities stronger," Paul Wyman, chair of the CEO search committee, said in a written statement.
Roger Lundy, president of the real estate agents association, said Fisher's skills will help the group continue to grow its legacy of protecting private property rights and enhancing communities.
Fisher will assume his new duties on Sept. 7, filling a spot left by retiring CEO Karl Berron.
Fisher said he sees his new job an opportunity to take his experience in public policy, economic development and association management to a statewide level.
He said he believes association management professionals are at their best when they empower members to engage in the governmental process at the local, state or national level and that's what he wants to do at the realtors association.
"With 20,000-plus members who are in effect all small business owners across the state of Indiana, I'm excited about learning what's going on in communities across the state," Fisher said in an interview with IBJ. "How realtors are basically the fabric of that community across the state of Indiana, and what issues they care about most and how we can enable them to really make a difference in their communities."
Fisher was named to IBJ's "Forty Under 40" list of achievers in 2017 and was noted for being one of the key connectors in the city, bringing together businesses and other organizations to impact the quality of life in Indianapolis.
In addition to his work with the Indy Chamber, Fisher is on the boards of the Indiana Fiscal Policy Institute, IndyGo, Midtown Indy, and LISC–Indy. He is also active in Leadership Indianapolis.
Fisher has a master's degree in public affairs with a concentration in non-profit management from Indiana University-Indianapolis and bachelor's degree in sociology from Indiana University-Bloomington.
He and his wife have four children and live in Indianapolis.
Please enable JavaScript to view this content.