Naples, Florida-based Cormo USA is is set to make its mark in the world of peat moss and the agricultural technology firm thinks Rushville is the place to do it.
Cormo has designed a high-tech process that turns waste from corn crops into a substitute for peat moss, which is being harvested in Canada faster than it's being replenished. Conservationists say that's a concern because peat bogs naturally store carbons that could slow climate change.
But peat moss is critical in growing a number of commercial crops including mushrooms, blueberries and tomatoes and is also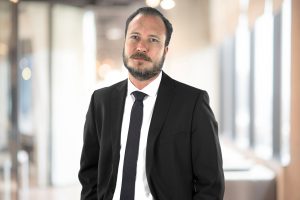 widely used in home flower and vegetable gardens.
"It's not very sexy, but without peat moss, we could all starve," said Cormo USA CEO Stefan Muehlbauer.
Cormo USA is a joint venture between Cormo AG, which was founded in Switzerland, and Naples-based SPGX.
SPGX, which owns 35% of Cormo USA, is a publicly traded company that fosters project development and incubation for companies with transatlantic expansion plans, company officials said.
Rushville will be Cormo USA's first plant, and it expects to ramp up production next fall. It's currently in the process of building out its local facility.
"The reason we picked Rushville is that it's centrally located and has a very long history of having good corn harvests, even in bad years," Muehlbauer said. "There's also a strong entrepreneurial drive there, and they've been very supportive of us."
There was another factor that led Cormo to Indiana. Hoosier farmers don't feed much of their corn waste to cattle like they do in states such as Nebraska.
"There's more corn waste in Indiana than we need," Muehlbauer said.
Muehlbauer moved to Indiana earlier this year, and he's been impressed by the overall business climate.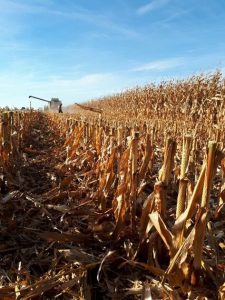 "I had never been to Indiana when we started thinking about moving our company's facility here," he said. "But what I found here; the infrastructure, the universities, the human capital and drive to get things done have all far exceeded all our expectations."
The roots of Cormo trace back two decades when Muehlbauer's business partner—agronomist and scientist Stefan Grass—was looking to develop super-absorbent materials for diapers.
After looking for renewable resources with which to make their product, the pair landed on the idea of using corn stalks, which are often dumped or tilled back under the dirt.
Cormo, which can use stalks from sweet and field corn, uses the bottom 18 inches of the corn stalk to make its product. Muehlbauer declined to explain how the patented technology the company uses works for proprietary reasons.
While the product Grass came up with was not suitable for use in diapers—it acted like a sponge letting water in, but allowing it to be squeezed out under pressure—it did have agricultural and industrial applications.
Grass invented patented technology that could turn the outside of the stalk into a substitute for peat moss and the inside of the stalk into material that can be used to absorb ammonia and other industrial fluids. After the material absorbs ammonia, it turns into ammonia nitrate, which can then be used to fertilize farm fields.
"We have no waste that hits the landfill," Muehlbauer said. "We turn trash to gold."
Cormo is in the process of moving into a temporary facility. It plans to eventually locate in the Commerce Park at Rushville, a 288-acre site designated for heavy manufacturing.
Cormo hopes to have a 20-acre facility within five years, with 10 acres under roof.
"We need a lot of space, not so much for our equipment, but for storage," Muehlbauer said.
For many years, there has been a debate between peat producers and conservationists as to the long term effects of the use of peat moss as a gardening material. That argument is getting louder as knowledge of the dangers of global warming increase.
Peat moss can be derived from different materials, but the bulk of the peat moss sold commercially in North America is from Canadian sphagnum moss. Peat is simply the decomposed product of the moss.
Although peat was dried and burned in some countries as a source of fuel for centuries, only since the 1940s has it been used on any scale for horticulture. It is typically sold in either bags or compressed bales, to be mixed in with garden soil. Most commercial potting soils contain peat. It is useful for growing plants requiring an acidic (lower pH) environment. It also has good water and air holding qualities, although it is virtually devoid of nutrients.
Some scientists view peat bogs as important and as fragile as rainforests, and they have their own special ecosystem issues and threats. They are home to rare wildlife, including a number of highly specialized native plants, many of which may be endangered and found only in the peat bog.
Conservationists argue peat companies are destroying these fragile, unique and valuable bog ecosystems by removing the peat, which is being harvested faster than it can be replenished.
There are other materials used to make peat moss replacements, including the core of coconuts and recycled paper, but those products have their limitations. There isn't nearly as much coconut material available as there is corn waste, and recycled paper has other uses. Both are more expensive to turn into a peat moss substitute than corn, Muehlbauer said.
"We looked for a product that is tremendously underused," Muehlbauer said.
Cormo USA will produce its first batch of its peat moss replacement out of its Rushville facility early next October after the first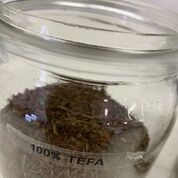 harvest of Indiana's sweet corn. That production will ramp up later in the fall after the harvest of Indiana's massive field corn crop.
Cormo must process the waste within three days after the harvest. The finished peat moss-like product, which Muehlbauer says looks like saw dust, has a shelf life of about 18 months. The industrial absorbent material has a much longer shelf life.
Cormo USA is still determining the price of its product, Muehlbauer said, but he estimated it will be 30% cheaper than peat moss.
Cormo thus far has been financed through a friends-and-family round of funding, Muehlbauer said. The company is beginning to raise "an advanced seed round," he added.
Muehlbauer said Cormo's Rushville operation—and the company's revenue—should ramp up quickly starting next year.
Cormo's business plan calls for having 10 employees in Rushville next year and 250 by early 2025.
"We estimate our revenue will be $100 million by year 10," Muehlbauer said. "That's conservative. We think the demand for this product will be tremendous."
Please enable JavaScript to view this content.