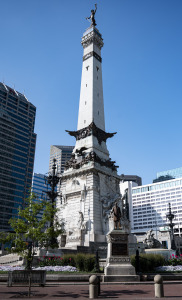 In a push to bring more revenue to Indianapolis restaurants as they recover from the pandemic, Downtown Indy Inc. is introducing a new event on Monument Circle: Food Fridays.
Food Fridays will begin this week and run weekly through Aug. 20 from 11 a.m. to 1 p.m. The event will feature restaurants and food trucks from around the city. A similar event called Food Truck Fridays used to be held on Georgia Street, but Downtown Indy Inc. had been planning to move the event to Monument Circle before the pandemic hit.
"The absence of a downtown workforce has been devastating to our downtown restaurants," Downtown Indy Senior Vice President of Marketing, Communications and Events Bob Schultz said.
Schultz said he hopes the event boosts restaurants by creating "a sense of vibrancy" on Monument Circle that will "encourage people to come out with friends and coworkers."
Diners will have the option to either eat at participating restaurants or take their food to Monument Circle, where people can sit on the steps of the Soldiers and Sailors Monument or eat at the tables and chairs that will be set up for the public.
Participating restaurants and food trucks will offer a "Food Friday Feature." That could be a specific "flavor of the month" food item on the menu or some restaurants might offer menu items at a slight discount.
"We don't want to ask our surrounding restaurants to offer deep discounts, so they can get back on their feet as well," Schultz said.
Soupremacy, located on Market Street, is one of the Indianapolis restaurants participating in the event. Danielle Shipley, Soupremacy's manager, will be offering a "pick two" deal that lets customers choose a bowl of soup with either a salad or panini. Customers then select a can of soda or small bottle of water to go with their meal.
The hope is that restaurants will be added to the event throughout the duration of the summer. If the event becomes popular, Schultz and Downtown Indy Inc. will consider adding more food options, places to sit and activities such a beer garden and live entertainment.
"We're going to wait to see as workers start to return and if crowds will gather to calculate how much we want to add to the Circle," Schultz said.
Shipley anticipates Food Fridays will be a big help for Soupremacy.
"Even if it doesn't have a huge impact on a particular Friday, the bigger picture is making sure people remember you are still there since they haven't been downtown for so long," Shipley said. "Getting our name out there will be invaluable as customers have to relearn what is still available downtown."
Increasing revenue after the pandemic took its toll is the goal of participating in Food Fridays.
"We are a predominantly lunch place for our business customers," Shipley said. "So when the pandemic hit and everyone went to a remote work situation, it greatly affected our business. We, overnight, went to doing a fraction of what we had been doing."
In addition, customer interaction is a big part of Shipley's excitement for Food Fridays.
"I miss seeing people's smiling faces when they get a bowl of their favorite soup," Shipley said. "I miss the lunch crowd, the go-go-go for two hours, the lead up to the lunch rush and the clean up after."
Please enable JavaScript to view this content.