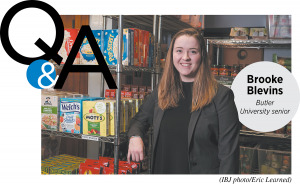 Butler University senior Brooke Blevins, 21, doesn't want any of her fellow students going hungry because money is tight.
Blevins, who expects to graduate in May with a degree in human connection and organizational leadership, helped launch Butler's student food pantry, which began distributing food in early March.
The on-campus pantry offers three tiers of support—snack packs, weekend meal packs and weekly food packs—regardless of whether students live on campus or participate in a meal plan. The pantry is funded by the university. It also accepts food and cash donations.
Blevins is from Annapolis, Maryland, but hopes to find a job in Indianapolis and remain here.
Whose idea was this?
Caroline Huck-Watson, who's the executive director of student involvement and leadership, which is the office that oversees all student activities, has had this in the back of her mind for multiple years.
How many students have been served?
I don't have the exact numbers, but I know that, in the first week, we had over 70 orders, which was really exciting and a lot more than we were expecting. We were expecting a much lower response.
I think, as it kind of steadies and carries out through the end of this semester and into next semester, it will probably be between, I would guess, 15 and 30 for each distribution week.
Who qualifies?
There's no qualification. Anyone who's enrolled as a student at Butler is able to sign up to get food. It's kind of a no-questions-asked sort of thing.
Why might a student need food help?
Something that we've learned as we've kind of developed this food pantry is that food insecurity among college students is a lot more common than people might realize.
You look at the cost of tuition for a private institution like Butler, and you would assume, "Oh, if they're paying that tuition, they of course can afford food." But that's not always the case, especially [at] a school that gives out so many scholarships, and there's so many students on financial aid and things like that. So we just wanted to be able to provide kind of a little bit of extra support.
What kinds of food do you offer?
For the week bag, that would come with pasta, pasta sauce, pancake mix, rice, canned chicken, canned fruits and vegetables, instant potatoes, soup, things like that. For the weekend bag, it's pretty similar, just on a smaller scale. So, instead of two boxes of pasta, you get one. Also, things like bread, peanut butter and jelly, and that sort of stuff. And then the snack bag will have things like granola bars, Pop Tarts, raisins, microwaveable mac and cheese, and stuff like that.
How common is food insecurity among college students?
Nationally, according to the College and University Food Bank Alliance, over 30% of students experience food insecurity. But food insecurity can look a lot different. It could be skipping one meal a week just to save $10 here or there. It's not necessarily someone who never has food to eat, or anything like that. It definitely varies and can vary throughout the semester, too. You could be food-insecure one week but not the next.•
Please enable JavaScript to view this content.