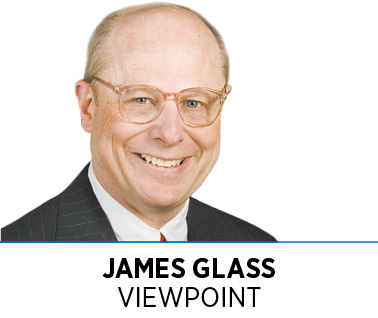 I recently visited London for 16 days. It had been 39 years since my last visit, so I was prepared for some changes. What surprised me the most were ways in which the daily lives of Londoners and Americans have diverged since 1980, particularly in the last two decades.
First, communication of news. There are today 12 daily print newspapers published for the metropolitan London area, plus three or four tabloids distributed free at Underground (subway) and railroad stations. Circulation of the top three paid tabloids exceeds 1.2 million subscribers, and even the establishment Times of London and Daily Telegraph have circulations of close to 400,000.
And the depth of content? Both the Daily Telegraph and Times of London issues I sampled contained three to four sections, each with 10 to 12 pages. News stories covered most of each page, but there were ample advertising and marketing inserts. Both newspapers had daily editorial cartoons, in color. In addition, the width of a page in the Telegraph's daily edition is 17 inches—6 inches wider than that of the Indianapolis Star or the New York Times. A bigger page equals more content.
It's true that London print newspapers have suffered a slow decline in circulation over the past two decades in response to online news and social media, but obviously many Londoners still prefer to obtain their news through a scanning of stories and columns in print editions.
The second divergence I noticed was in retailing. London supports at least four major department stores, several of which have multiple branches in the metropolitan area. The most heralded of all, Harrod's, operates in its elegant 1890s Baroque building and attracts shoppers from all over the London region and many foreign visitors. An army of clerks in uniforms and straw hats serves crowds of customers in specialized departments—candy, fresh meat and vegetables, designer clothes and accessories, homewares, and beauty salons.
Offering staunch competition in central London is Selfridge's Department Store. Shoppers jam the departments of the 540,000-square-foot store and lunch at one of its 14 restaurants. John Lewis, one of the largest department store chains, operates throughout England.
It appears many Londoners prefer the shopping experience of these retail institutions to the impersonal and disembodied transactions of online retailers. Possibly they enjoy personalized attention and the ability to examine merchandise firsthand before purchase.
Finally, bookstores. One evening, my traveling companions and I visited Foyle's Book Store in central London. One of the largest book sellers in the United Kingdom, Foyle's operates a five-story establishment on Charing Cross Road, with departments covering a myriad of topic areas and containing over 200,000 titles. People circulated throughout the departments, stopping to pick up books that piqued their interest, thumbing through them, and making a selection. Judging from Foyle's, customers seem to believe they can glean more information about books in person than on a website.
There you have it: three major experiences in life that diverge from what most Americans and Hoosiers do. It is true that the United States and Great Britain are two different nations with different economies. But at a time when Americans often assume the way we live is the inevitable pattern for other countries, a visit to London can give us pause.•
__________
Glass is principal at Historic Preservation & Heritage Consulting LLC.
Please enable JavaScript to view this content.