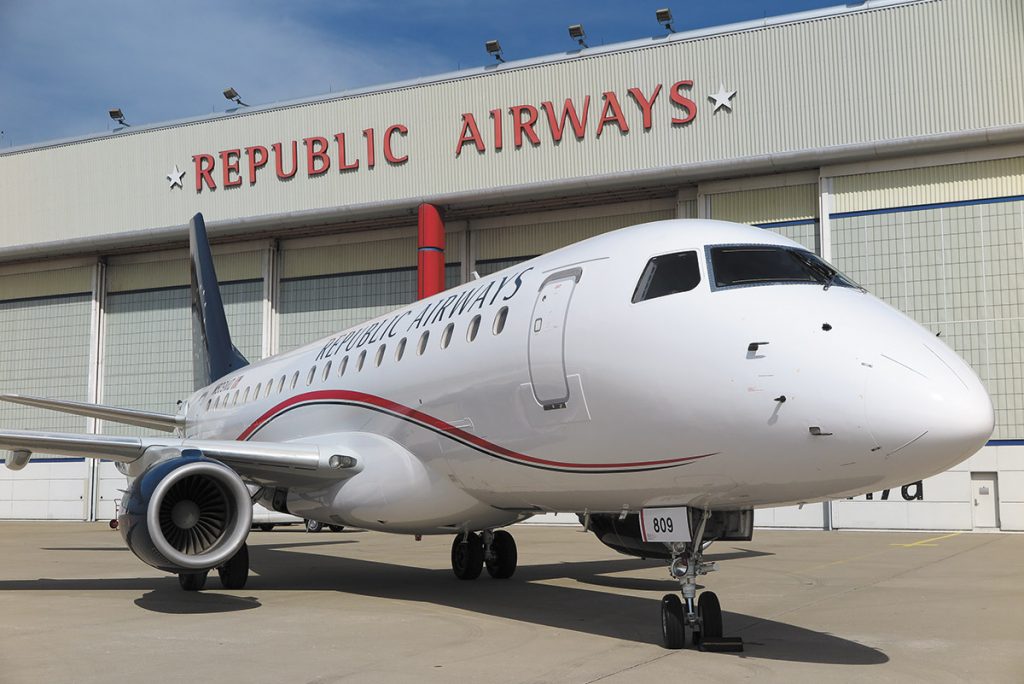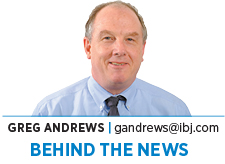 Indianapolis-based Republic Airways, one of the state's largest private companies, had bounced back from a 2016 Chapter 11 bankruptcy and appeared to be flying high. Late last year, Chief Financial Officer Joe Allman told IBJ, "I am extremely excited about our future."
And now this.
The entire airline industry is in crisis as a result of the COVID-19 pandemic and accompanying recommendations and mandates for social distancing—which have led to a plunge in air travel. The Transportation Security Administration reported that passenger flow at checkpoints last Sunday was 80% below that of the same day a year earlier.
Republic is among the nation's more than 60 so-called regional airlines, and it's one of the largest. The major airlines contract with the regionals to fly their small jets on routes that attract fewer passengers.
It's a cost-saving play—regionals' pilots and crews earn less—albeit one that's largely invisible to the public. The regionals' jets are painted in the colors of the majors, which are responsible for selling tickets and buying fuel while paying the regionals fixed fees for the flights.
The word "regionals" might sound small-time, but the industry is sizable. Republic alone employs 6,000 and generated revenue of $1.3 billion in 2018, the latest year available. Until the recent plunge in passengers led the major airlines to slash routes, Republic had 1,000 daily flights.
And the regional airline industry in total was flying more than 10,000 U.S. flights, or about 40% of the total, according to the Washington, D.C.-based Regional Airline Association.
Republic executives were not available for interviews before IBJ's deadline. But in a letter posted on the Regional Airline Association's website, association CEO Faye Malarkey Black said the financial stability most airlines were enjoying three months ago is long gone.
"Today, the singular impact of COVID-19 has brought devastating financial harm to regional airlines like this industry has never seen," Black's letter said. "This is no time to conceal the enormity of impending harm; frankly, the industry will not survive without immediate help from Congress in the form of grants and loans."
The letter was clearly aimed at ensuring that the regionals receive a handsome slice of the pie as Congress considered a huge rescue package for the airline industry.
On Thursday, the Senate approved a $2 trillion economic rescue package that included $25 billion in loans and guarantees to passenger airlines, with another $25 billion in aid provided in the form of direct grants. Details on how the airline aid would be divvied out was not immediately available.
The carnage already occurring suggests the Regional Airline Association's rhetoric wasn't hyperbole. On March 19, Minneapolis-based regional carrier Compass Airlines announced it was shutting down. The move came just days after its parent, suburban St. Louis-based Trans States Airlines, announced it would speed up the wind-down of its Trans States Airlines regional unit, which had been hamstrung by a shortage of pilots.
"It's difficult to articulate or even comprehend the speed at which the coronavirus has changed our industry and our world, and the impact it has had on our company," Trans States Airlines CEO Rick Leach said in a memo to employees obtained by CNBC.
Before the coronavirus-fueled meltdown of the industry, Republic had been operating from a position of strength. After labor strife and a shortage of pilots propelled the company into bankruptcy, it emerged in 2017 leaner and more efficient.
A key change was transitioning from three aircraft types to one—the super-efficient Embraer 170/175 with 70 to 76 seats. On its website, Republic calls the jet "a true business warrior" whose lighter weight "means cost savings that go right to the bottom line."
Republic, which had about 200 of the aircraft at the start of the year, soon will receive 32 that had been used by Compass, according to airline industry publications. Details on the terms of the transfer were not available.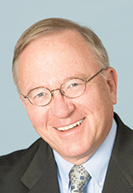 Aviation consultant Michael Boyd, president of Colorado-based Boyd Group International, said Republic and Utah-based SkyWest Airlines are among the regional players that stand out for strong management.
He said that, in this uncertain time, Republic's ownership structure bodes well for its survival. In the Indianapolis company's bankruptcy reorganization, creditors received company stock—which left American Airlines, United Airlines and Delta Air Lines with substantial stakes.
Boyd said if he were an airline that owned a big piece of Republic, "I do not want this entity to go away."
Even without that ownership, he said, the airlines need Republic.
"If I was betting on any entity to come out on the other side of this, Republic would be on the top of the pile," he said.
"The flights they are providing to their customers cannot be replaced. It is not excess. It is mainline flying."•
Please enable JavaScript to view this content.