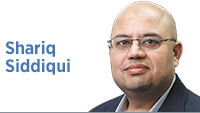 The recent debate on student loans has focused largely on loan forgiveness and predatory practices of for-profit colleges and universities. However, this debate is missing an important, yet critical, conversation about the role and predatory practices of private not-for-profit institutions of higher education. One assumes that being a not-for-profit automatically makes an institution good.
Let me first state that I have long been a supporter of private colleges and universities because of my own positive experiences when I attended one. This experience led me to encourage my children to take the same path. Sadly, I have found that private not-for-profit colleges might have changed in the 20-plus years since I attended. Let me explain.
My oldest child decided to attend a public, state institution despite my encouragement to consider a private college. We found the experience very straightforward and transparent. Some of her faculty even attended her wedding last summer. The university had clear and transparent guidelines on how much financial aid she could expect and how much we would pay.
My second and third children took my advice and decided to attend an elite not-for-profit university in Indiana. This has resulted in one of the worst experiences of our lives. In an attempt to provide our children with a debt-free education, we have been subjected to some horrible predatory practices by this not-for-profit university that the Biden administration suggests happens only at for-profit institutions.
The main issue has been the school's policy (which I am learning is routine across not-for-profit private colleges) to "bait and switch." In essence, to lure students into their institutions, they offer financial aid packages that will be subject to change (and do change drastically).
Over the course of three years, my family has depleted savings and my available IRA funds and borrowed money from family to ensure we get our child through this horrendous experience. Last year, the college insisted that we could only appeal our financial aid package if we took on federal student loans!
Sadly, this "investment" has not resulted in the opportunities we hoped for for our children. Despite these institutions priding themselves on faculty teaching their classes, my children's experiences at these private colleges has been mixed. Last year, one faculty member taught a class without a syllabus, and my children have found faculty are rarely available to provide assistance and mentorship.
It is critical that we discuss the role expensive, private, not-for-profit colleges and universities play in making the student loan problem worse. These institutions should be:
◗ Subject to higher scrutiny by consumer-protection enforcement agencies to be eligible to receive federal and state aid.
◗ Required to have more transparent financial aid packages—subject to annual cost-of-living adjustments—that families can rely on for the duration of their child's education.
◗ Prohibited from having policies that require taking on student loans to be eligible for need-based awards.
◗ Prohibited from requiring students to live in university-provided housing, to help make that education more affordable.
◗ Subject to scrutiny similar to that placed on state institutions of higher education.
As an educator and parent, I am horrified by the experience we have endured (and will have to continue to endure until our children are out of college) these past few years.
While my experience is personal, it illustrates the growing burden being placed on the middle class.•
__________
Siddiqui is assistant professor and director of the Muslim Philanthropy Initiative at the Lilly Family School of Philanthropy at Indiana University, senior fellow at the Center for Global Politics and founder of the Center on Muslim Philanthropy.

Click here for more Forefront columns.
Please enable JavaScript to view this content.