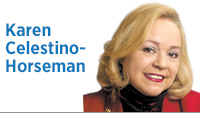 As we head into the winter season, vaccinated and unvaccinated people are spending more time together in enclosed spaces, so it is no surprise that the number of COVID cases is increasing.
We are also now learning of a new mutation of the virus that might be more easily transmitted. Despite all of this, only 51% of Hoosiers are fully vaccinated and we still cannot agree on the circumstances under which Hoosiers can be required to be vaccinated.
There is no more selfish act than refusing to be vaccinated. The unvaccinated present a danger not only to themselves but also to those of us who are vaccinated. Hospitalization rates are climbing due to the increased number of COVID cases, which means those of us who are vaccinated and need treatment are pushed to the back of the line unless it is an absolute medical necessity. The increase in hospitalizations exhausts medical personnel and drains fiscal resources in treating those with minimal health insurance or none.
There are health care employees, including nurses, in the area who refuse to be vaccinated. They are treating patients with weakened immune systems and, without a vaccination, the employees have an increased risk of catching COVID and passing it on to patients. The first rule for doctors is, "Do no harm," but this apparently doesn't apply to all medical employees.
No freedoms in America are unlimited, and that includes the right to decide whether to be vaccinated. For example, children have long been required to be vaccinated if they are to attend school. Hoosiers who decline to be vaccinated should not be surprised to be told by their employer that they cannot continue employment, particularly if their position requires contact with the elderly, the ill or vast numbers of the public. But in Indiana, Republican members of the state House of Representatives appear more concerned about protecting the unvaccinated than about getting more Hoosiers vaccinated.
House Bill 1001 states that, if an employer requires employees to be vaccinated against COVID, employees must be allowed to claim an exemption on religious or health grounds or on the grounds they are immune for six months after having suffered from COVID. If the employer requires employees to be vaccinated, the employer must also offer a testing alternative to those who simply refuse to be vaccinated. The employer can test the unvaccinated employees for COVID—but no more than once a week, which means the employee can be tested on Monday but might develop COVID on Tuesday, which might not be discovered until the next week after exposure to the public, patients, clients and other employees.
So, in essence, the unvaccinated will continue to work around children, the elderly and the infirmed and encounter vast numbers of the public, all while COVID cases continue to rise in the winter and new mutations confront us. And in the meantime, our attorney general is fighting with our governor over the governor's power to act in an emergency, which was the power used to shepherd us through the pandemic last winter.
It appears that we are once again in for another long winter. Given that four out of 10 Hoosiers are not vaccinated, we all might have to limit where we go and with whom we share enclosed spaces, and go back to wearing masks, while having a governor whose hands are legally tied so he cannot act in the interest of all.•
__________
Celestino-Horseman is an Indianapolis attorney.

Click here for more Forefront columns.
Please enable JavaScript to view this content.