What is contributing to the labor shortage?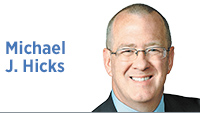 One can scarcely walk into a restaurant or retail store without seeing large "help wanted" signs. While business complaints about a "labor shortage" are a perennial phenomenon, it seems this time something is different. The question is, just what is causing this mismatch between workers and jobs? Is it generous unemployment insurance, poor business practices or something else altogether?
From the high point in January through the end of May of this year, some 286,000 Hoosiers left the rolls of unemployment insurance. From January to May, Indiana businesses created only 400 new jobs. While we should be open to the hypothesis that generous UI might suppress labor supply, these data make convincingly clear that something else is happening.
The COVID downturn affected mostly low-wage workers, many of whom might have discovered that child care costs and payroll taxes consume so much of a paycheck that their old job just wasn't worth having. Many are focusing on finding better jobs or working in the growing online "gig" economy. For many displaced workers, a few flexible hours of data entry or home call-center work after the kids go to bed is better than a retail or a fast-food shift.
There are other reasons displaced workers might not return to old jobs. Some will be easing into early retirement, while some will want to remain home until kids head back to school. Some will search for better opportunities in different occupations. We really won't know until October job numbers are revealed if this is nothing more than a pandemic hangover or a more permanent change.
It is also a mistake to suppose that the only problem lies with workers. Employers, their HR staff and third-party job sites like Indeed or ZipRecruiter might also contribute to the mismatch between workers and jobs. The clearest example of this comes from my daily interactions with college kids.
I know two rising juniors at prestigious colleges. Both have significant leadership and work experience and are willing to work any shift. Both applied to 10 or more jobs on online sites without any response. These were all entry-level, $9.50- to $14-an-hour positions. Finally, both visited a store manager and were hired on the spot. Still, it took more than two weeks to process a drug and background test.
This is a familiar story among college and high school kids looking for work this summer. I don't know if the problem is bad candidate filtering from the third-party job sites, incomplete applications or overwhelmed HR offices. None of these is a labor shortage.
In the end, there's one way to know for sure whether we are in the midst of a labor shortage, and that is through wage growth. Without substantial wage growth, we simply cannot have a labor shortage.
Last month, monthly wages rose at an annualized rate of 0.5% and actually fell in several industries. Today, actual evidence of a labor shortage in Indiana just doesn't exist.•

Click here for more Forefront columns.
Please enable JavaScript to view this content.