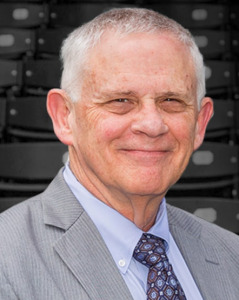 Cal Burleson, who spent 45 years with the Indianapolis Indians, including 16 as general manager, has died. The Indians said Burleson, who was 71, passed away Sunday from complications from cancer.
Burleson joined the Minor League Baseball team in 1975 as a ticket manager and worked his way up to the top executive spot. He was named GM in 1998 and held that role through 2014. He was honored two times as the International League Executive of the Year.
"There is one overarching word that comes to mind when remembering Cal–passion," said Indianapolis Indians President and General Manager Randy Lewandowski said in a statement. "He approached everything in his life with a great deal of passion. He was passionate about his family, impacting generations of individuals in the Indianapolis community and driving the Indians to success on and off the field. In true Cal fashion, he tackled his cancer diagnosis head-on. Much like his desire for the Indians to compete until the final out, he showed fight, grit and determination to beat his diagnosis from start to finish. He was a mentor to many and will be sorely missed."
In 2015-16, Burleson assumed duties as Indians vice president of baseball and administrative affairs, functioning as the team's representative with the Pittsburgh Pirates and International League office. He worked for the team through 2019, most recently as senior vice president of community affairs.
Burleson held numerous leaderships roles in the community over the years, including chairman of the board for the American Red Cross of Greater Indianapolis.
Memorial services are pending.
Please enable JavaScript to view this content.