A little more than a year after stepping down from his role as Indiana University's athletic director, Fred Glass has authored a book detailing his experience in the position and lessons learned throughout his life. The memoir, "Making Your Own Luck: From a Skid Row Bar to Rebuilding Indiana University Athletics," was released Nov. 2.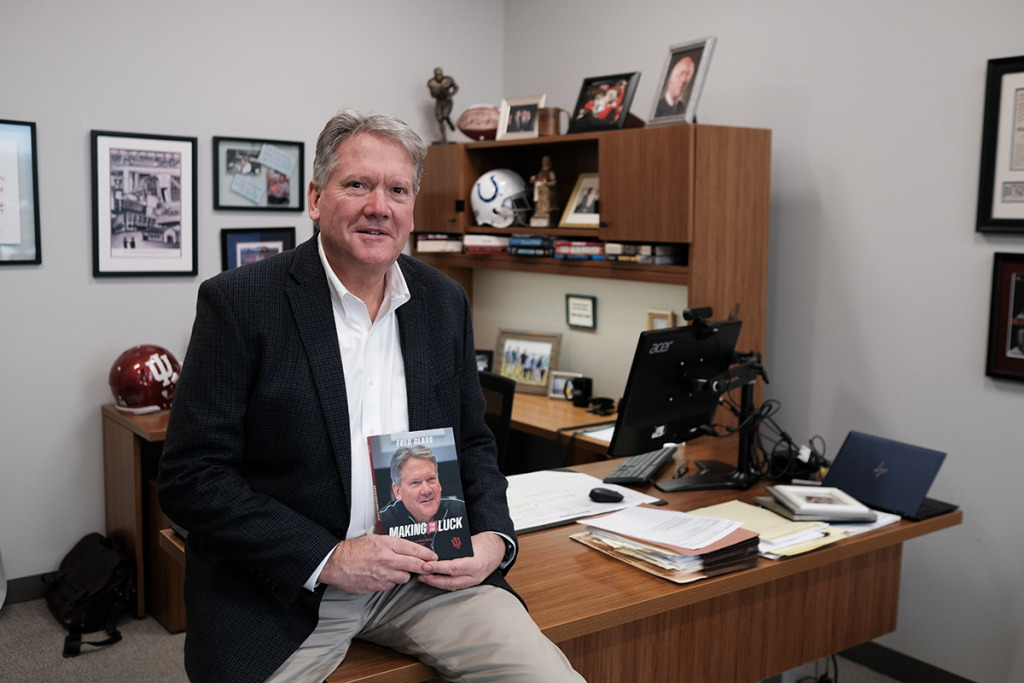 What led to your decision to write a book about your life?
A couple of years ago, my [children] gave me as a Father's Day present a subscription to a service that sent me a question every week about my life, where I'd respond in writing. At the end of the year, they bound the answers in a book and my daughter gave it to me—it was a really moving experience. My mom had always thought I should write a book because of the different experiences I've had, so I wrote a long story about my life. I distilled those into 10 precepts. I hope it's got something to say to people earlier in their careers that I figured out—like being mindful and recognizing and seizing opportunities—that's made all the difference in my career.
This book is published by Indiana University Press. What role did the school have in its contents?
So, the book is certainly about IU athletics and rebuilding that, with a behind-the-scenes perspective of how that worked out and how I approached it. But it's also broader than that, touching on other pieces of my career, like Indianapolis' pursuit of the Super Bowl and the establishment of Lucas Oil Stadium.
I think it's unvarnished, vulnerable. I share a lot of things about my upbringing, my father, my anxieties as a kid and that sort of thing, but it's not full of titillating revelations—I don't believe in that. I didn't get any editorial pressure to make any person look good or pull a punch here or there. I didn't want it to be about some salacious revelation. I wanted it to be about really focusing on this concept of making your own luck, and how it can be utilized by regular people to do pretty extraordinary things.
What are your goals with this book? Do you expect it will be a bestseller?
I feel like I have something to say to people who want to get big things done, like lawyers, [real estate agents], business executives, entrepreneurs, politicians—I'm finding an audience of people there.
Even if I didn't sell one book, I'd be thrilled that it's been published. But now I'm having fun promoting it and going out to make presentations on it to IU alumni. The preorder interest is really strong, I'm told by the publisher, so who knows? Hopefully, some people will enjoy reading it.
Are you continuing your law practice as you tour?
Absolutely. I'm fully engaged in the practice of law. But complementary to that, if I can get in front of major companies and major employers for a leadership seminar … maybe some legal work comes out of that. If so, great, but this endeavor is very complementary to rebuilding my law practice and to being athletic director.
Where can people get your book?
I'm really focused on trying to promote local bookstores. Locally, there are more than a half-dozen local bookstores where people can order the book in Indianapolis. I really encourage people to do that. They can also get it through traditional channels like Amazon, Barnes & Noble or the IU Press website.•
Please enable JavaScript to view this content.