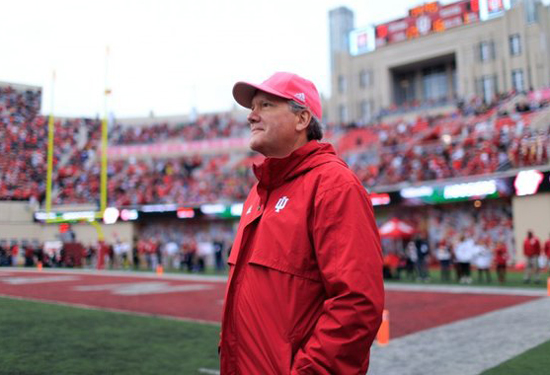 Former Indiana University Director of Athletics Fred Glass plans to resume his law career in October, joining the Indianapolis office of Taft Stettinius & Hollister LLP as a partner.
Glass, 61, will operate a general business law practice, while also handling matters related to higher education, employment, government matters, and the sports, media and entertainment industries. He is expected to join the firm Oct. 30.
"I think it'll just be fun there," he told IBJ. "That was the most important thing for me at this stage of my career—find a place that I thought would be fun. This is my final chapter and I want it to be probably about 10 years. I think that's enough time to build a robust practice, and I [think] Taft could be a great place to do that."
Glass stepped down from his post at IU on July 1 after 11 years at the helm. He previously was a practicing business attorney at Baker & Daniels (now Faegre Drinker Biddle & Reath) and held several jobs in local and state government, including as Gov. Evan Bayh's chief of staff.
During his time at IU, Glass was responsible for multiple key hires, including head coaches for football and men's basketball. He also helped elevate the men's soccer, baseball and women's basketball programs, among others. And nearly all the school's athletic facilities, including Assembly Hall and Memorial Stadium, underwent upgrades during his tenure.
Glass was also instrumental in overhauling IU's athletic department sexual assault policy and, in 2014, creating the student-athlete bill of rights, which guarantees the cost of education, a lifetime degree opportunity and comprehensive support for all of the school's scholarship athletes.
Glass said he plans to use his experiences at IU to inform his return to practicing law, particularly in working with higher education institutions.
"I felt like we got big things done at Indiana. And now I'm hoping to get big things done for my clients," he said. "I'm not exactly sure where that will go or how that'll be, but I'm at the stage of my career where I can help clients do things that are very important for their companies, and hopefully for their communities as well."
In addition to serving the Bayh administration, Glass was also a key staffer for Indianapolis Mayor Bart Peterson, as well as other Democratic office holders like Lt. Gov. Kathy Davis and County Assessor Greg Bowes.
He also served as president of the Capital Improvement Board of Managers from 2000 to 2008, during which time the board built Lucas Oil Stadium and broke ground on further expansion of the Indiana Convention Center.
Glass earned his law degree from the Indiana University McKinney School of Law and his bachelor's degree from Indiana University. He also served as a law clerk for U.S. Federal District Court Judge Samuel Hugh Dillin.
He told IBJ in 2007 he is driven by a mission to serve others.
At IU, Glass was a familiar face around campus, lobbying students to attend football games and seated just behind the scorer's table at basketball games.
Glass was approached by Taft (among other institutions) shortly after he announced his decision to step down from the post in December 2019. The firm offered Glass a job days after he stepped down in July.
"I was looking for a strong Indianapolis law firm with a commitment to [the city]—I still have real civic interest—as well as a broader presence in the Big Ten footprints," he said. "I think what I've done as [IU's athletic director] may be able to expand my base of operation more to the Big Ten footprint. And I want to have a place with the depth and breadth of expertise to help me help my clients get important things done for the next 10 years."
He said the prospect of working with longtime friend and former college roommate Michael Terrell—a partner at Taft—was attractive, as the two had long discussed practicing law together.
Glass' move to join Taft comes as the firm—the fourth-largest in Indianapolis—continues to grow. Earlier this year, it closed on an acquisition of Minneapolis firm Briggs & Morgan. The company has more than 600 attorneys nationwide and has offices in several major municipalities. Since March, Taft has hired 14 attorneys, and another 17 first-year associates will join the firm in January.
Bob Hicks, chairman and managing partner for Taft, said Glass will help the firm grow.
"To me, he's a blue-chip opportunity and an all-around great guy," he said. "I really think he's going excel in our environment and our platform. Guys like him don't come along every day—he's quite a unique opportunity. We needed to just bring him into the fold so that he'd be part of Taft and help drive our business forward."
Please enable JavaScript to view this content.