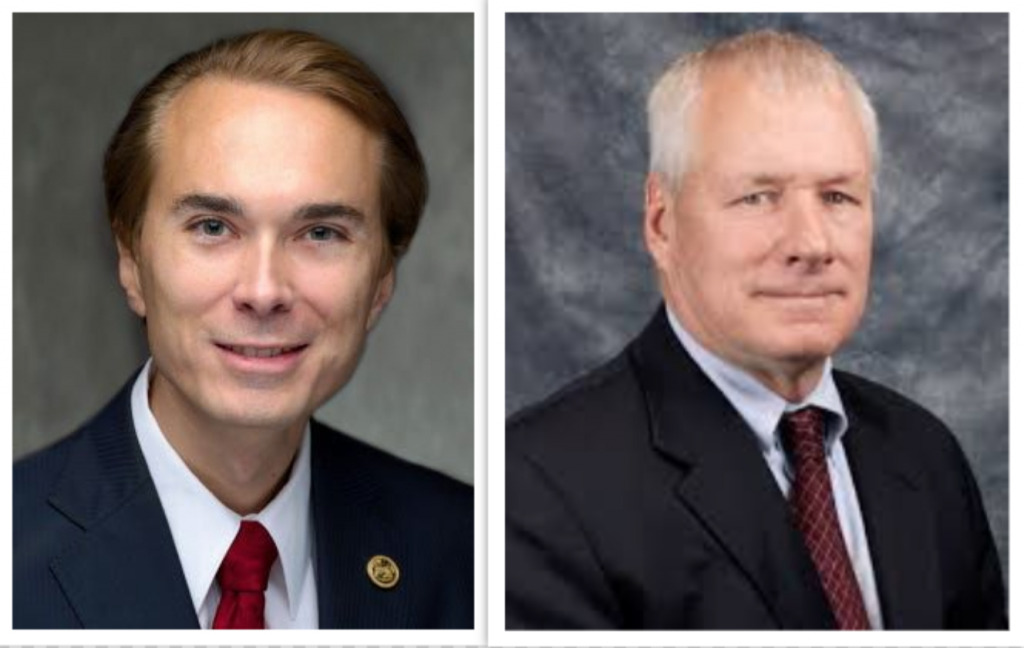 Former state Sen. Brent Waltz and casino executive and former state lawmaker John Keeler have been indicted on federal charges related to violating federal campaign finance laws.
The U.S. Attorney's Office for the Southern District of Indiana announced the charges Tuesday morning.
Waltz, 47, has been charged with one count of conspiracy to make conduit contributions, false statements and to obstruct justice; one count of making and receiving conduit contributions; one count of obstruction of justice; and two counts of making false statements.
Keeler, 71, is the vice president of Spectacle Entertainment, which owns two casinos in Gary. He has been charged with one count of conspiracy to make illegal corporate contributions, false statements and to obstruct justice; one count of making illegal corporate contributions; one count of obstruction of justice; and one count of making false statements.
An official at the Indiana Gaming Commission did not immediately return a request for comment about the impact of Keeler's arrest. Spectacle Entertainment is operating the Majestic Star I and Majestic Star II casinos on Lake Michigan and is constructing a $300 million land-based casino that will replace those riverboats.
The FBI executed an arrest and search warrant Monday morning at Waltz's house.
The indictments are related to an earlier investigation that became public in January when Republican strategist Chip O'Neil, a vice president at Strategic Campaign Group, pleaded guilty to conspiracy in federal court in Virginia. He admitted to helping collect donations from small donors in the names of candidates who never received the money.
O'Neil said in court that at least eight people, including his girlfriend, were used as conduits for illegal corporate donations to a U.S. House candidate in Indiana. Court documents did not initially reveal the candidate, but Federal Election Commission records indicated the recipient of the funds was Waltz, a Republican who unsuccessfully ran for Indiana's 9th Congressional District in 2016.
Court records implicated an unnamed Indianapolis gaming company and its vice president and general counsel as part of the scheme. The Indiana Gaming Commission later acknowledged that company was New Centaur LLC, which at the time owned two race track casinos in Indiana, and the executive was Keeler.
According to the U.S. Attorney's Office, Keeler worked with Maryland-based political consultant Kelley Rogers—who worked with O'Neil at Strategic Campaign Group—to transfer thousands of dollars from the accounts of New Centaur to Rogers, who then contributed that money to Waltz's 2016 congressional campaign.
Rogers allegedly created fake invoices and agreements to make it appear like he was providing services for New Centaur and recruited straw donors to each contribute $2,700 to Waltz's campaign. That was the federal maximum contribution limit at the time.
According to the federal indictment, a total of 15 straw donors were involved, including three of Waltz's relatives and one of his business associates. The straw donors are not named in the indictment. Rogers and O'Neil were responsible for recruiting nine of the straw donors, according to the indictment.
The straw donors were allegedly reimbursed by Rogers, who used the money he received from New Centaur. Rogers and O'Neil also each donated $2,700 to Waltz's campaign and allegedly reimbursed themselves with money from New Centaur.
Rogers also allegedly transferred money from New Centaur to Waltz, who also recruited straw donors and either reimbursed them or paid them in advance, according to the U.S. Attorney's Office.
New Centaur transferred a total of $79,500 to entities controlled by Rogers for the scheme, according to the indictment, but Rogers allegedly kept about $33,000 of that to pay for his consulting fees for his services to Waltz's campaign.
Rogers allegedly flew to Indianapolis from Washington, D.C. on April 10, 2015, to meet with an unnamed New Centaur executive at the airport to arrange the scheme. New Centaur paid for the plane ticket, according to the indictment.
Earlier this year, after the investigation became public, the Indiana Gaming Commission put approval of a Terre Haute casino on hold for months because Keeler and former Centaur CEO Rod Ratcliff were involved in the project.
Ratcliff was initially chairman and CEO of Spectacle Entertainment, but he resigned in June. In a statement dated Sept. 25, Spectacle said Ratcliff "is enjoying his well-deserved retirement after 26 years in the gaming and horse racing industry."
He still maintains an ownership stake in the company though and is responsible for investor relations.
Jahnae Erpenbach, who is the former senior vice president and general manager of gaming at Centaur Gaming, became the new CEO and chair following Ratcliff's departure.
In a statement issued Tuesday, Spectacle Entertainment said Keeler has taken administrative leave.
"It is important to remember that Mr. Keeler is presumed innocent of all charges," the company said in the statement. "Spectacle Entertainment will have no further comment at this time."
Spectacle Jack, whose parent company is Spectacle Entertainment, was the only applicant for the Terre Haute casino license and had proposed a $125 million casino near Interstate 70 and State Road 46. Florida-based Hard Rock is partnering with Spectacle Jack on the 100,000-square-foot casino. The gaming commission eventually approved the Terre Haute casino after Keeler and Ratcliff divested their interest in Spectacle Jack, which is the license holder.
Please enable JavaScript to view this content.