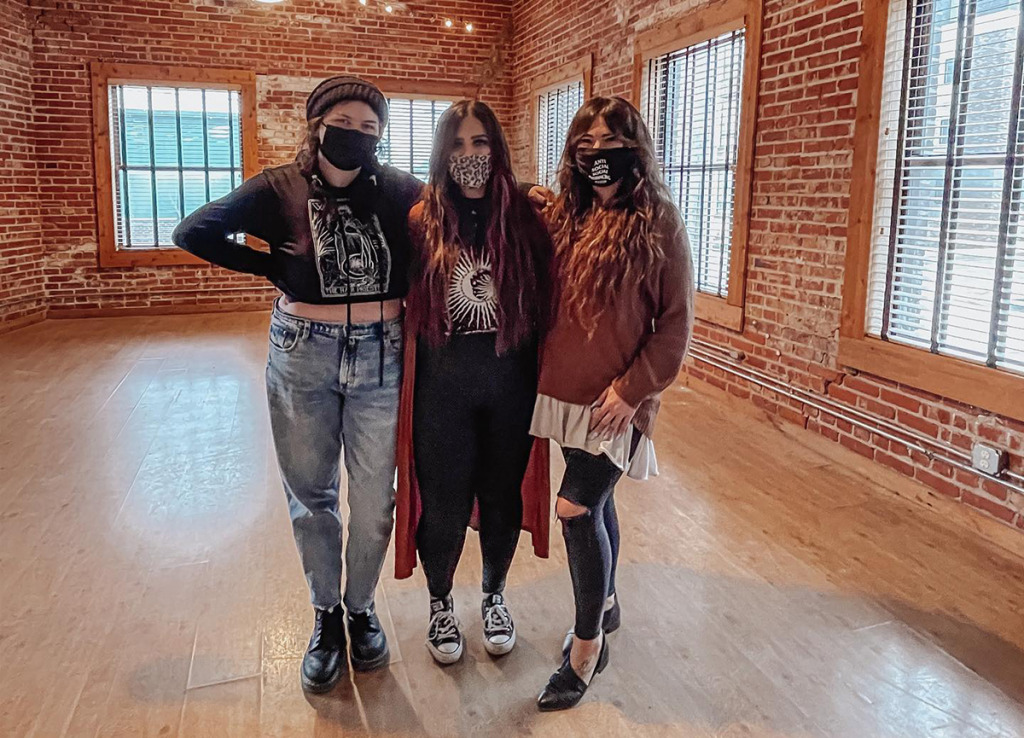 Despite the disruptions caused by the pandemic—including a mandatory months-long shutdown last spring—Fountain Square's Witch Hazel salon is planning a cross-town move that will dramatically expand its space.
"We are at the point where we are at capacity," said Sarah Moscato-Goodpaster, who co-owns the salon along with Kelsey McColm and Mel Moss.
The three opened Witch Hazel in February 2017 at 874 Virginia Ave. in a space that includes about 2,000 usable square feet between its main floor, a storage basement and a carriage house. The salon's new spot at 601 Fulton St.—between the Lockerbie Square neighborhood and the northeast end of Mass Ave—will offer 5,850 square feet of useable space. Witch Hazel has a 10-year lease on the space.
The Fulton Street building dates back to 1920 and sports high ceilings, lots of windows, exposed brick walls and concrete floors, Moscato-Goodpaster said.
Witch Hazel hopes to move into the Fulton Street space in late spring, assuming there are no delays in project permitting and construction scheduling.
Moscato-Goodpaster, McColm and Moss were Witch Hazel's only stylists when they opened the salon four years ago. The business now has 21 employees, including 11 full-time stylists and three part-time junior stylists. Its services include haircuts, coloring and styling, as well as hair extensions, airbrush tanning and brow and lash services.
The new space will include room for 20 stylists. The salon is already hiring for that location.
Witch Hazel has seen consistent growth since its opening four years ago, Moscato-Goodpaster said. The owners started thinking about relocating two years ago and decided to continue with those plans even amidst the disruptions of the pandemic.
The salon furloughed its staff last spring, when stay-at-home orders meant all salons had to shut down for several months.
But Witch Hazel used curbside pickup and shipping to continue selling its salon products to customers, which kept some revenue coming in even during the shutdown, Moscato-Goodpaster said.
The salon had also been conservative financially, she said, which meant it had a cash cushion to help see it through the shutdown.
After reopening, the salon instituted some strict safety and sanitation protocols to help prevent the spread of the coronavirus. Incoming customers receive a temperature check and health screening, and the salon has waived its cancellation fee for clients who have a confirmed or suspected case of COVID-19 exposure. The salon unlocks its doors only for scheduled appointments, eliminating extraneous foot traffic.
Witch Hazel has also built in 15 minutes for sanitizing the facility  between appointments, which has reduced the number of clients the salon can see in a day.
"It's challenging in the time of COVID-19, because there are a lot of factors we can't control," Moscato-Goodpaster said.
But she said the safety measures have also helped Witch Hazel with word-of-mouth business, because customers see that the salon is taking the pandemic seriously.
Moscato-Goodpaster said that so far only one employee has tested positive for COVID-19, and she is not aware of any cases of illness that could be traced back to the salon.
"We definitely believe that masks and sanitation work," she said.
Please enable JavaScript to view this content.