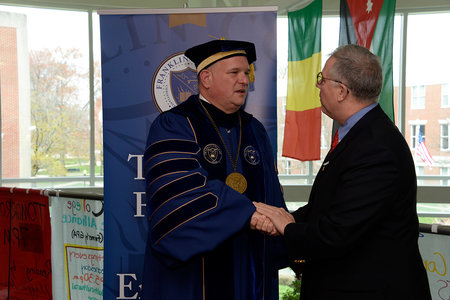 Franklin College terminated President Thomas Minar over the weekend after he was arrested in Wisconsin "for use of a computer to facilitate a sex crime, child enticement, and to expose a child to harmful materials/narrations," the school said Monday afternoon.
Minar was arrested by Sturgeon Bay police on Jan. 6 and released on $7,500 cash bond after a hearing the next day. He has not been formally charged, but Door County District Attorney Colleen Nordin told The Associated Press on Monday that she expects to file a criminal complaint in the next couple of days.
Nordin said the anticipated charges include attempted child enticement and exposing a child to harmful materials. The college said it was notified of Minar's arrest from an email by the Sturgeon Bay Police Department and that Minar also was arrested on suspicion of using a computer to facilitate a sex crime. Arrest reports are not being released at this time, Nordin said. Minar is due back in court Jan. 27.
The school said its board of trustees "felt it was essential to act immediately and sever his relationship with the college" after it became aware of the "deeply disturbing incident."
Minar was named Franklin's 16th president on July 1, 2015. He announced in June that he would be leaving the school after the 2019-20 academic year, saying he had "accomplished the things" he came to the school to do.
"The Franklin College Board of Trustees is stunned by this event," the university said in a statement. "This is the first such incident the board has been made aware of regarding Dr. Minar, and the board is fully committed to cooperating fully with Wisconsin authorities and working to ensure the safety of our campus community."
The college said Minar "was released from custody on bond, subject to no direct contact with minors unless supervised and not to use social media."
Minar, in an email sent to IBJ on Monday afternoon, did not directly address the arrest.
"I very much regret the circumstances which led the college to terminate our relationship," he said in the email. "My years at Franklin have been very rewarding and I am extraordinarily grateful to so many staff and faculty who have worked hard with me to advance the college in these challenging times for higher education. I wish nothing but the best for Franklin College and for the people who make it the wonderful institution it has become."
The college said Lori Schroeder, provost and dean of the college, will serve as interim president until the board's executive committee can appoint an acting president, likely early this week.
"The safety of Franklin students is always our highest priority," the college said in its statement. "To that end, the college has launched an investigation concerning Dr. Minar's conduct while president.  While there are systems already in place, additional resources will be engaged to continue to provide our students a safe, confidential means to report incidents of inappropriate behavior."
Minar previously worked for seven years as vice president for development and alumni relations at American University in Washington, D.C.  He has more than 30 years of experience in institutional fundraising, alumni relations, external affairs and higher education administration at several academic institutions, including Roosevelt University in Chicago, the Chicago Theological Seminary and the University of Illinois.
Board of Trustees President James Due had praised Minar for his role in helping Franklin raise funds for the school's new $17 million science center.
Franklin, founded in 1834, has an enrollment of just over 1,000 students and offers 50-plus majors in 24 academic disciplines. Its 207-acre campus is in Johnson County, about 25 miles south of downtown Indianapolis.
Minar has a doctorate in political science from Northwestern, a master's degree from the Kellogg School of Management at Northwestern, and a bachelor's degree from Pomona College.
Early in his career, he taught political science and management strategy at Northwestern University.
He is a native of the Chicago area and married to Dr. Frank Becker, an academic physician at Northwestern University and director of pulmonary and critical care at Northwestern Lake Forest Hospital.
Please enable JavaScript to view this content.