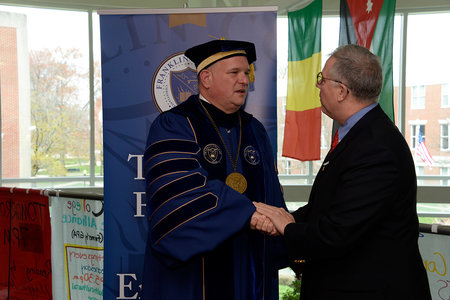 Franklin College President Thomas J. Minar plans to resign after the 2019-2020 academic year, the school's board of trustees announced Wednesday afternoon.
Minar, 55, who took over leadership at the school on July 1, 2015, did not give a specific reason for his decision.
"I've accomplished the things I came here to do, and I'm looking forward to my next challenge," Minar said in written comments. "I'm looking at distinct possibilities for the future and look forward to sharing my plans as they unfold. I am committed to ensuring a smooth transition and have positioned Franklin for future growth and enduring success."
Minar became Franklin's 16th president after working as for seven years as vice president for development and alumni relations at American University in Washington, D.C. He previously had more than 30 years of experience in institutional fundraising, alumni relations, external affairs and higher education administration at several academic institutions, including Roosevelt University in Chicago, the Chicago Theological Seminary and the University of Illinois.
Board of Trustees President James Due praised Minar for his role in helping Franklin raise funds for the school's new $17 million science center.
Minar "introduced new marketing and admissions approaches that have attracted academically successful students," Due said in a written statement. "He helped redefine the student experience at Franklin through his focus on improving campus diversity. Beyond Franklin, he has opened doors and developed deep and lasting relationships that have strengthened the college's profile."
Franklin, founded in 1834, has an enrollment of just over 1,000 students and offers 50-plus majors in 24 academic disciplines. Its 207-acre campus is in Johnson County, about 25 miles south of downtown Indianapolis.
"It has been a joy and privilege to serve as president of Franklin College," Minar said. "We have much to celebrate, including successful fundraising efforts, a new strategic plan, and an improved, inclusive student experience. We have one of the strongest faculty and administrative teams in Franklin's history, of which I am especially proud. Without their dedicated stewardship, the successes at Franklin would be unattainable."
Please enable JavaScript to view this content.