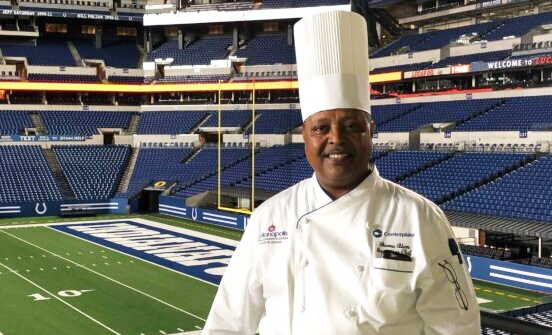 Chef Shimelis Adem is accustomed to chaos.
And he'll experience plenty of it this month as the executive chef at Lucas Oil Stadium, which will host a bevy of big-time college basketball games—including Elite Eight games, both NCAA men's Final Four games and the national championship, as well as earlier round games.
Adem, who is known by family and friends as "Shumu," is certainly on top of his game, but he's not too stressed out about the tidal wave of activity heading his way.
For one thing, the Ethiopian-born Adem has been the executive chef for the host venue of two previous Final Fours and a Super Bowl. And while this year's edition of March Madness is certainly a bit different—and arguably more challenging—than those events due to the pandemic, it's nothing compared to the chaos he experienced during his youth.
Adem was just 19 years old when he was forced to flee Ethiopia in 1977.
In 1974, Emperor Haile Selassie was overthrown and the Ethiopian monarchy was abolished. The military leaders responsible for the coup sought to eliminate all opposition.
Through the mid- to late-1970s, homes in the African nation were searched, and people—many of whom were students—were jailed, tortured and killed without trial or cause. More than 10,000 were executed, including some close to Adem.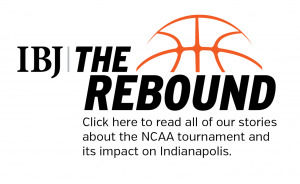 Adem said when he started to see his friends get arrested, he fled to neighboring Djibouti. For the next three years, he took refuge in a convent, where he discovered his love for food and cooking. Despite the fact that in his Ethiopian homeland only women were permitted in the kitchen, Adem bucked that norm and honed his culinary skills preparing meals for a dozen Catholic nuns, other workers and fellow refugees at the convent.
Through an American-sponsored program, Adem came to the U.S. in 1980. He landed in Philadelphia and worked his way up the culinary-industry food chain, eventually working at the Philadelphia and Baltimore convention centers.
In 2004, he received his Pro Chef Certification Level III from the Culinary Institute of America. Three years later, he moved to Indianapolis to become executive chef at the Indiana Convention Center and the RCA Dome. One year later, when Lucas Oil Stadium opened, he was executive chef for that venue.
Adem, who is employed by Centerplate, the food and beverage vendor at the Indiana Convention Center and Lucas Oil Stadium, has led culinary programs for a number of major sporting events, including Super Bowl XLVI, Final Fours in 2010 and 2015, multiple Big Ten Championship football games, the NFL Combine and dozens of Indianapolis Colts games and other events.
This year's NCAA Men's Basketball Tournament will certainly be different , since all the teams are playing in one region for the first time.
There will also be some big operational differences, including 100% cashless points of sales to reduce contact, individually wrapped food items and flatware, closed food containers, portion-controlled condiments, gloves and masks required for all food-service employees and social distancing for fans and workers.
All those constraints—and the fact that the tournament is allowing so few fans—doesn't mean the menu will be tamped down.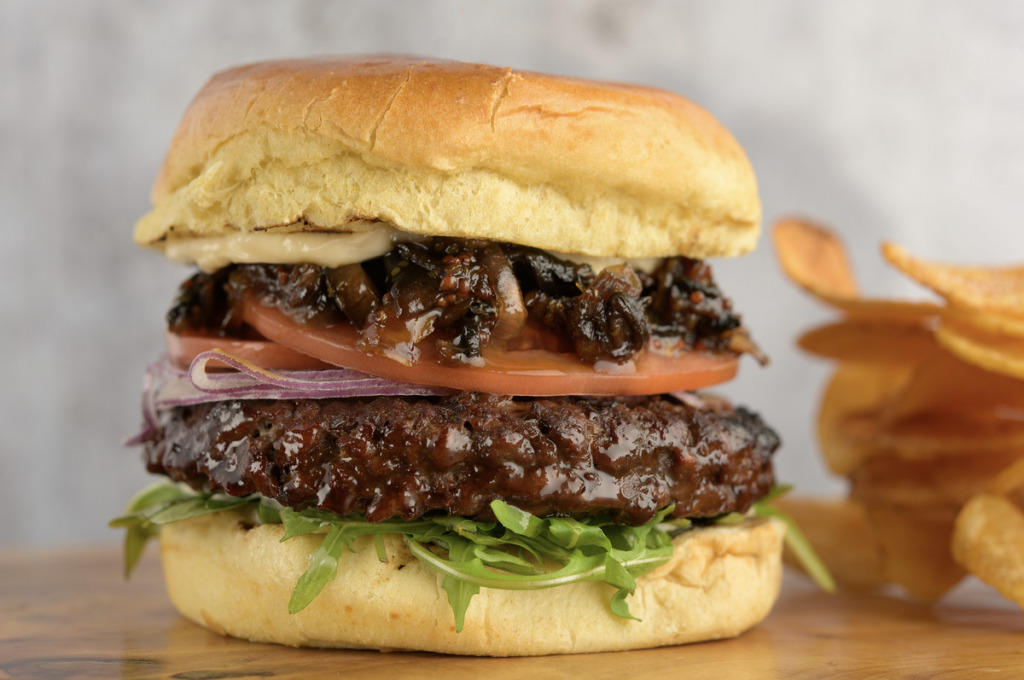 It features a number of delicacies, including chilled jumbo shrimp cocktail; an all-natural Angus beef double cheeseburger topped with house-made applewood-smoked bacon jam, melted cheddar and crispy onions on a fresh baked roll; a locally sourced shaved beef sirloin, topped with Sun King Brewing Wee Mac Scottish Ale cheese fondue on a freshly baked hoagie roll; locally sourced smoked pork wings glazed with a house-made whiskey and orange marmalade; and cranberry walnut, Italian chopped salad with organic spring feta.
To make it all happen, Centerplate has brought in a number of local food partners, including Best Chocolate in Town, Cute as a Button Bakery, Just Pop In (Popcorn), Legacy Maker, Smoking Goose Meatery, Sun King Brewing Co., Indiana Kitchen, Ghyslain Chocolatier, Indiana Packers, Piazza Produce and St. Elmo Steakhouse.
On Wednesday, Shumu talked to IBJ about what he is looking forward to over the next three weeks.
How did you get your nickname?
Some people have difficulty pronouncing my full name, so people used to always ask if I have a nickname. My wife and all my friends call me Shumu, so that's what I tell them. So now, almost everyone calls me that.
You have an interesting background. How were you trained as a chef?
I have taken some courses, but I've learned much of what I know learning straight from my jobs. I had the good fortune of working with some really great people and great chefs. It's the best training I could have had.
How did you end up at Centerplate?
I joined Centerplate in 2007 when I came to Indy. I was working at the Baltimore Convention Center at the time, and I had this opportunity to open at Lucas Oil Stadium. I came to see the city and it was an opportunity that was too good to pass up. And I had heard great things about Centerplate from other people I had worked with, so I was really excited about the opportunity to work for the company.
How many sporting venues have you worked at?
As an executive chef, the [RCA] Dome and Lucas Oil Stadium were the first sports venues I worked in. I had known chefs who worked in sports venues in Philadelphia and Baltimore and had worked in support of them there, but Indianapolis is the first where I was an executive chef.
How is working in a sporting venue different from more traditional dining outlets or other venues?
In a sports venue, it's a very different atmosphere from places where there is a set menu. The variety is one big difference—it varies based on seasons and on the sport. You have a lot of different things to be concerned about. From concessions to buffets to plated meals, there are a lot of different food choices and with that comes additional preparation and management.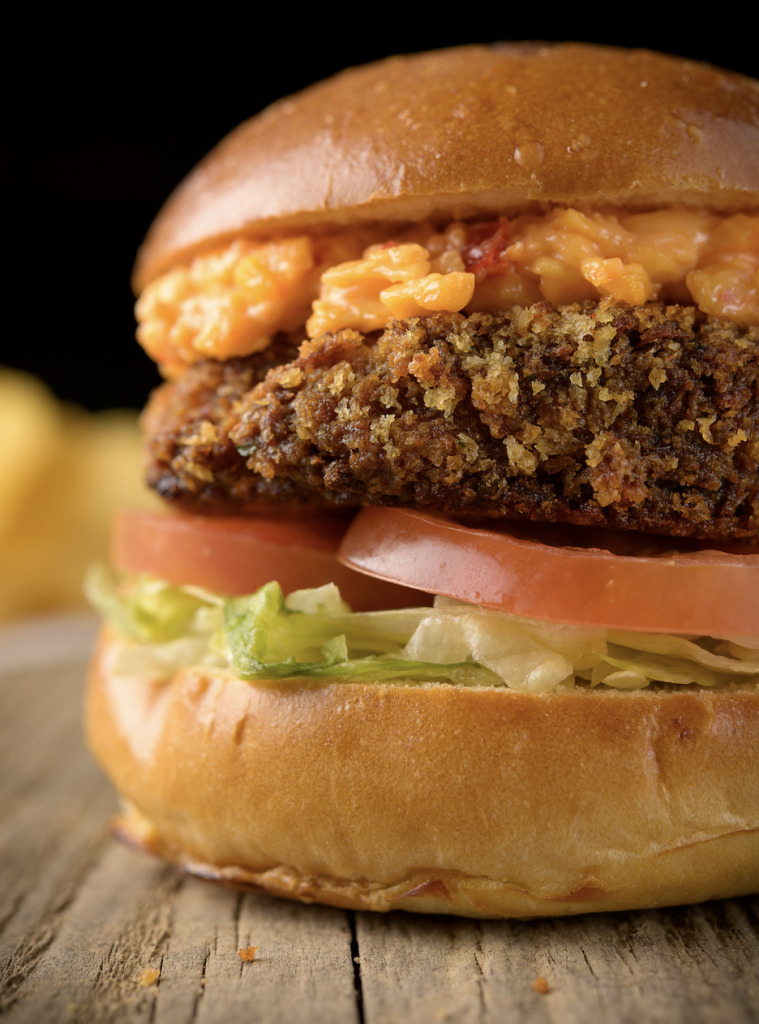 In years past, sports venues only served popcorn, hot dogs, nachos, soda and beer. It's a lot different now. How has preparing food for sporting events changed over the course of your career?
It's changed a lot [laughter]. A whole lot. It's not what it was even a few years ago. The fans and what they want and what they've come to expect has led to much of this change. Fans come to expect original items. They're more willing to try different items—and locally sourced items. And we love to offer those things. We make a lot of different foods for a lot of different tastes.
How has the Final Four changed from a culinary standpoint?
The volume changed a lot in the second Final Four I worked at and the menu expanded. The menu expansion has been very popular with the attendees and very successful. In the third one [this year], the menu has continued to expand. It has totally changed.
How is the Final Four different from the Super Bowl?
The menu is a lot larger for the Final Four than for the Super Bowl. There seems to be a wider variety of fans and more families at the Final Four than at the Super Bowl, so you have to be ready for that. With the catering side a big part of the Super Bowl, more of the menu is set. With the Final Four, there are more last-minute orders. We have to be very flexible at the Final Four.
How is this year different?
This year is different, of course, because of COVID. We came up with individual packaging, even in the suites … and we've had to adjust the menu to serve what works best in individual—and customized—packaging. This approach is new to all of us.
The best thing to happen to all of us was the Indy Eleven [soccer] games. That was a great way for us to get accustomed to dealing with all of this. We adjusted a lot during that season. We learned from that. It was a small crowd so it was manageable to start with, and we were able to further perfect our operations during the Colts games.
We have a new approach, many new menu items, social distancing, much more extra cleaning and sanitization. The packaging and other extra steps can be very time-consuming, so we have to keep a close eye on the production timeline. There are a lot of operational timelines to be concerned about. To deal with everything that's going on, we've organized into two shifts. So there are a lot of things different this year.
Most people are predicting game winners, but I want you to make a different prediction. What do you think will be the most popular menu items?
I think all of them will be popular. All are excellent dishes and many are original and locally sourced. The Midwestern Madness Pork Chop Sandwich and Indiana Whiskey Sour Pork Wings will be popular. For sure, the Half-Pound Bracket Burger and the The Ultimate Hoagie, which features smoked goose, will be very popular.
How important is it to have locally sourced food at an event like this?
It's very important. This is all about Indiana, and we have some really excellent producers in this area. I think Indiana has a lot of opportunity to market locally sourced items, and events like this are an important part of that. We have some great traditional dishes here. … Indiana is a pork state, and we're always challenging ourselves to come up with great dishes to showcase the local farmers and vendors.
What would you tell a sports fan who hasn't gotten food at a sporting event in a while and remembers concession stands featuring only a few traditional—and often not that great—options?
I would say, with respect to the food in-stadium, we have come a long way. A very long way. If you haven't experienced food at a sporting event in a number of years, you will be amazed at the variety, quality and originality of offerings. The fan now is a bit different and less afraid to try something new at a game. I've seen that change in my lifetime.
Fans really enjoy the unique items. It's really given chefs like me a chance to expand the menu and try different and creative approaches. And we're going to keep doing that, so we want them to keep coming back.
Please enable JavaScript to view this content.