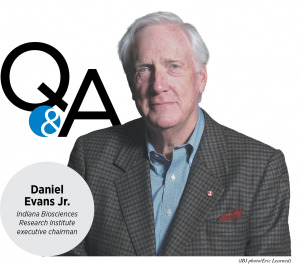 Daniel Evans Jr. has had a front-row seat for decades to Indiana's bustling health care landscape: first as a lawyer for Baker & Daniels law firm, then as CEO for 13 years of Indiana University Health, from which he retired in 2016.
Evans aggressively expanded the IU Health system from three hospitals downtown to a sprawling network of 19 hospitals (since reduced to 16), through a blitz of mergers and new construction.
Now retired, Evans, 71, keeps active as executive chairman of the Indiana Biosciences Research Institute and is vice chairman of the Indiana Drug Abuse Commission, among other duties. He was vaccinated for polio in 1955 at the age of 5 with the Salk vaccine, a memory he still discusses.
How would you compare the vaccination experience of 1955 to today?
I have vivid memories on hot days as a child, and our mother would not let us go to the Riviera Club to swim. And the reason would be the fear of polio. Our next-door neighbor got polio. There was a real fear. … So, the availability of the Salk vaccine was a relief, a miracle.
So, the feeling today is the same, one of relief. I can tell you as having just had the vaccine. But my wife is under 70, so she hasn't gotten hers yet, so I'm worried about her. And we know plenty of people [who] have gotten COVID. We do know a few that have died.
There have been complaints Indiana isn't moving fast enough to vaccinate people.
I was notified by my primary care physician at 9:55 a.m. on a Wednesday that I should get on the OurShot.in.gov website to make an appointment. I did at 9:56. At 9:59, I had an appointment at 2:50 p.m. at Methodist Hospital, and I was in and out in 15 or 20 minutes.
What's your prediction for the next big change in the health care system?
I think we will end up with a single payer—meaning, I think there will be a common payer and it will probably be the government or a quasi-governmental agency. The percent of health care costs that are borne by commercial payers is declining. And the percent of health care costs that are borne by the government, Medicare, Medicaid and the [Veterans Administration] is increasing.
But I don't think it will work unless it's actually connected with outcomes, and unless it's patient-focused, meaning the quality of the care you get is not only more efficient and less expensive, but it's better. And so the outcomes for you and your family are better.
You live in the city. What do you think of IndyGo's Red Line?
I rode it on day one. I took two of our grandkids to Broad Ripple—65th and College, got on the Red Line. We had a great time. We went down to the Indiana State Museum, wandered around, got back on the Red Line and came back. Then a few weeks later, I got on it again to go down to Hotel Tango, and it was awful—meaning it didn't stay on schedule. The buses were all bunched up. The signs on the platform said bus had arrived and it wasn't there. So, I've seen the glitches.
Indianapolis needs sophisticated contemporary modern mass transit to meet the needs of the folks in a rather diverse area. So I'm in favor of the Red Line, but I think it was oversold, and that's been a problem.•
Please enable JavaScript to view this content.