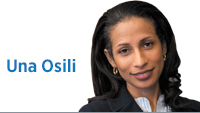 The past year has been pivotal in American philanthropy. Sweeping tax reforms have led to widespread apprehension about the future of philanthropy and its ability to promote inclusive and democratic social change.
Weighty critiques of philanthropy have emerged and are gaining momentum in an era of declining levels of public trust in institutions.
A host of new books has fueled debate about the limitations of philanthropy, and its constraints in tackling economic and social inequality.
Amidst this scrutiny, it is time to ask some different questions. Has philanthropy's global reach, expanded tools, and diverse approaches boosted charitable action? How can philanthropic organizations and new technologies support and bolster giving as well as inclusiveness?
One such noteworthy innovation in the philanthropic landscape is #GivingTuesday. The global day of giving follows the retail frenzies of Black Friday and CyberMonday, and marks the beginning of the giving season.
#GivingTuesday was created in 2012 to inspire people "to give, collaborate, and celebrate generosity." The global day of giving raised $2 billion in 2019, including online and offline donations. This year, #GivingTuesday raised $511 million online alone, a 28% increase over 2018.
Since its inception, several companies, including PayPal and Facebook, have matched donations on #GivingTuesday. Perhaps even more impressive than the growth of fundraising totals is that a majority of donors during #GivingTuesday had not given on a platform previously.
This initial evidence suggests that #GivingTuesday and social media campaigns can help not-for-profits enhance and expand fundraising appeals, which can continue throughout the year.
Second, #GivingTuesday and other social media campaigns can bring more inclusive and creative approaches to giving. An advantage of social media and technology platforms is that not-for-profits can reach underrepresented groups with tailored messages to diverse demographic audiences. Technology-based platforms can also promote peer-to-peer fundraising for charitable causes, empowering supporters to leverage their social networks cost-effectively.
Finally, social media can level the playing field for not-for-profits. My empirical research on this topic suggests that #GivingTuesday campaigns can expand giving for both large and small organizations.
Overall, #GivingTuesday can provide small, newer and less-recognized not-for-profits with an opportunity to boost awareness and charitable revenue through online activity. Smaller organizations can leverage communitywide efforts that inspire donations, volunteerism or awareness.
The #GivingTuesday movement, however, has its critics—and detractors.
An oft-cited concern is that #GivingTuesday may reduce year-end donations. Donor fatigue may set in as messages, funding requests and appeals overwhelm potential donors. To date, empirical evidence does not indicate that #GivingTuesday campaigns detract from year-end donations.
Yet another critique is that as #GivingTuesday grows in popularity, trendy causes may crowd-out more established ones. Not-for-profits have raised vital questions about how to allocate their limited resources. The holiday season is a critical time for giving—and leaders of established organizations have often argued that #GivingTuesday may siphon internal staff resources from sustained engagement with long-term donors.
Despite these concerns, the positive impact and growth of #GivingTuesday suggest that new approaches can be harnessed to broaden and enhance the philanthropic field.
With the holidays fast approaching, the success of #GivingTuesday 2019 can inspire us all to spread generosity in our communities.•
__________
Osili is professor of economics and associate dean for research and international programs at Indiana University Lilly Family School of Philanthropy. Send comments to ibjedit@ibj.com.
Please enable JavaScript to view this content.