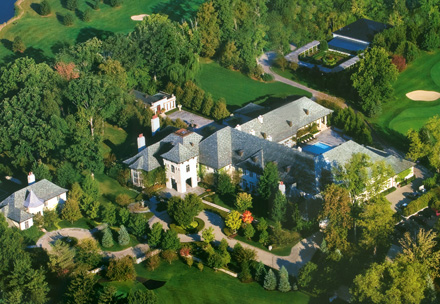 The Great American Songbook Foundation said Thursday that it is nearing the sale of its 107-acre Asherwood estate in Carmel to a private individual and a developer that wants to turn part of the property into a community featuring 40 homes.
Bren Simon, the widow of late shopping mall magnate Mel Simon, donated the property at 10110 Ditch Road to the Great American Songbook Foundation in 2017.
The foundation said the private individual and Indianapolis-based Gradison Land Development Inc. will soon purchase the property. The unnamed individual purchaser plans to occupy the main 50,000-square-foot mansion and the surrounding 20 acres, and Gradison plans to co-develop the remaining 87 acres with Carmel-based Old Town Design Group.
Financial terms were not disclosed.
Gradison affiliate Gradison Design-Build is seeking plat approval from the city of Carmel for a 40-lot subdivision that would comply with existing zoning requirements. Gradison partner Joe Gradison said his company will partner with Old Town Design Group on the project.
"As we've stated previously, we considered many possibilities to maximize the value of Mrs. Simon's generous gift before concluding that a sale was the best course for the Foundation," Songbook Foundation Executive Director Christopher Lewis said in a written statement. "Now, with the financial security the sale provides, we can confidently move forward with our long-term planning."
Lewis said the sale will help ensure the foundation's financial future. The organization, founded by famous performer and preservationist Michael Feinstein, is based at the Center for the Performing Arts in Carmel. Its mission is to preserve and curate artifacts related to creators, performers and publishers. It maintains an archive of more than 100,000 items related to pop, jazz, Broadway and Hollywood music.
Previously, the foundation considered redeveloping the property as a museum.
Prior to that consideration, local homebuilders Paul Estridge Jr. and developer Michael Browning had the property under contract to be redeveloped as an upscale inn surrounded by 100 custom homes. That project fell apart due to restrictive development covenants.
Bren Simon placed the property on the market in 2014 with an asking price of $25 million. In addition to the main house, the property features an 8,000-square-foot clubhouse, a 6,000-square-foot guesthouse, several other structures and two golf courses.
According to the foundation, the Asherwood estate home itself will remain a private residence. However, the surrounding estate lots to be developed on the property will be available for sale later this year.
Please enable JavaScript to view this content.