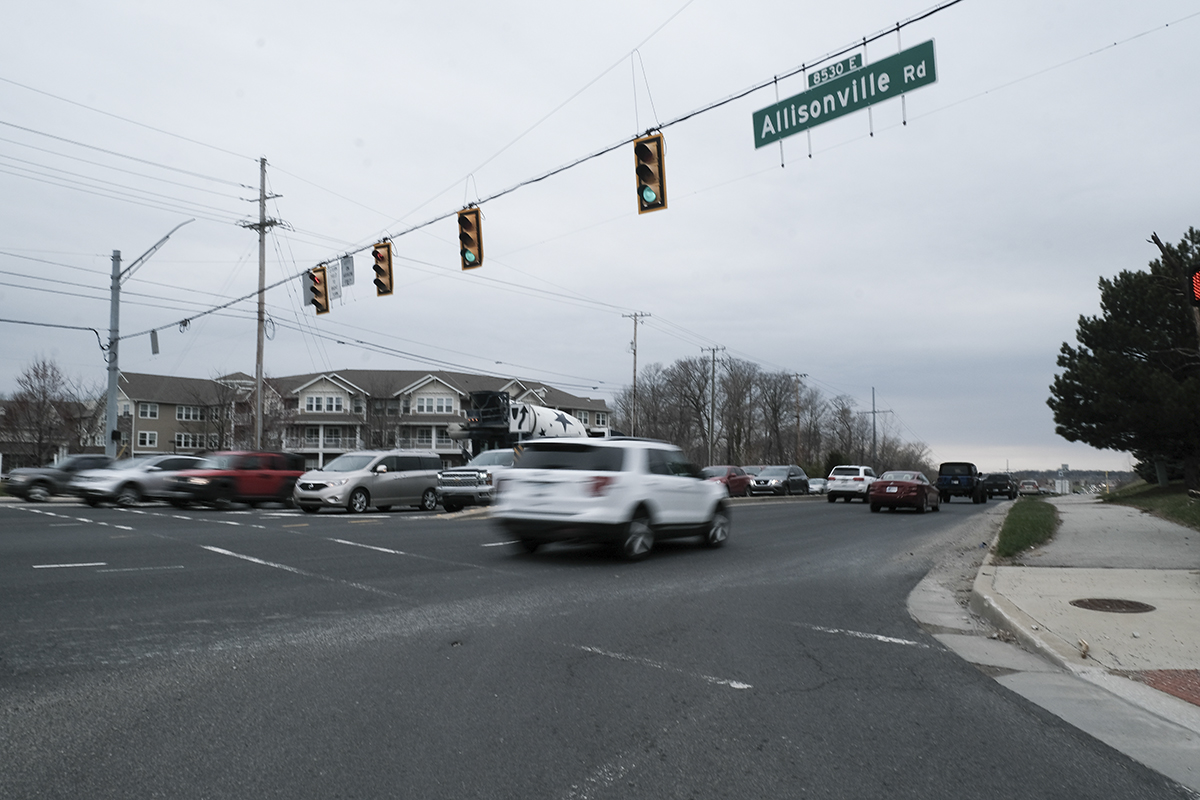 Change should finally start a year from now on one of the busiest intersections in Hamilton County.
The Hamilton County Highway Department is moving forward with a $29 million, 18-month construction project that will create a roundabout on Allisonville Road at East 146th Street, with East 146th converted to an overpass. This reverses a plan from five years ago that would have had Allisonville passing over East 146th.
Preliminary designs produced by Indianapolis-based United Consulting Engineers show all traffic lights eliminated at the intersection. The two roads will be linked by entrance and exit ramps.
Construction crews will also widen the bridge over the White River just west of Allisonville Road.
Contract bidding is scheduled for December, while work should begin next spring and be complete in the fall of 2024. The project received $9.5 million in federal funds; the remaining costs will be funded through the county's major bridge fund.
"While the actual road construction won't start until next year, there will be a lot of activity this year with the utilities out ahead of construction," Hamilton County Highway Department engineer Jim Neal said. "This is a project that's going to have a whole lot going on in a really small space."
Neal said the highway department's original plan included dog-bone-style roundabouts like those drivers use on Keystone Parkway in Carmel. However, he said, they would not work well with the volume of traffic on East 146th Street.
Creating an interchange at two roads that weren't already divided highways "is kind of a new thing for us," Neal said.
"This is the first time we've done it on more of an urban road," he added, "and so we're excited to get this to construction and get it done and get the improvement out there."
County Commissioner Mark Heirbrandt said the project is only now getting underway because the county was waiting on money.
"If we could've gotten the funds earlier on, we would have done this project, but in the end, it always comes down to money," Heirbrandt said.
Hamilton County government has been plagued by millions of dollars in cost overruns on its multiyear joint project with the state and the cities of Noblesville and Fishers to redesign five State Road 37 interchanges. The redesign of East 146th Street's intersection with S.R. 37, about a mile east of its intersection with Allisonville Road, is expected to wrap up around Labor Day.
Both Neal and Heirbrandt said a steep increase in traffic at East 146th and Allisonville since the 1990s made that intersection's redesign necessary.
According to statistics provided by the Hamilton County Highway Department, an average of 13,586 vehicles per day in 1997 traveled the stretch of East 146th Street between River Road and Allisonville Road.
The department projected that year that 26,848 vehicles would traverse that stretch by 2020. However, traffic exceeded that number by 2007.
Last year, the department counted 44,031 vehicles per day and projects 63,136 by 2043.
"It's the heart of Hamilton County that runs east-to-west," Heirbrandt said.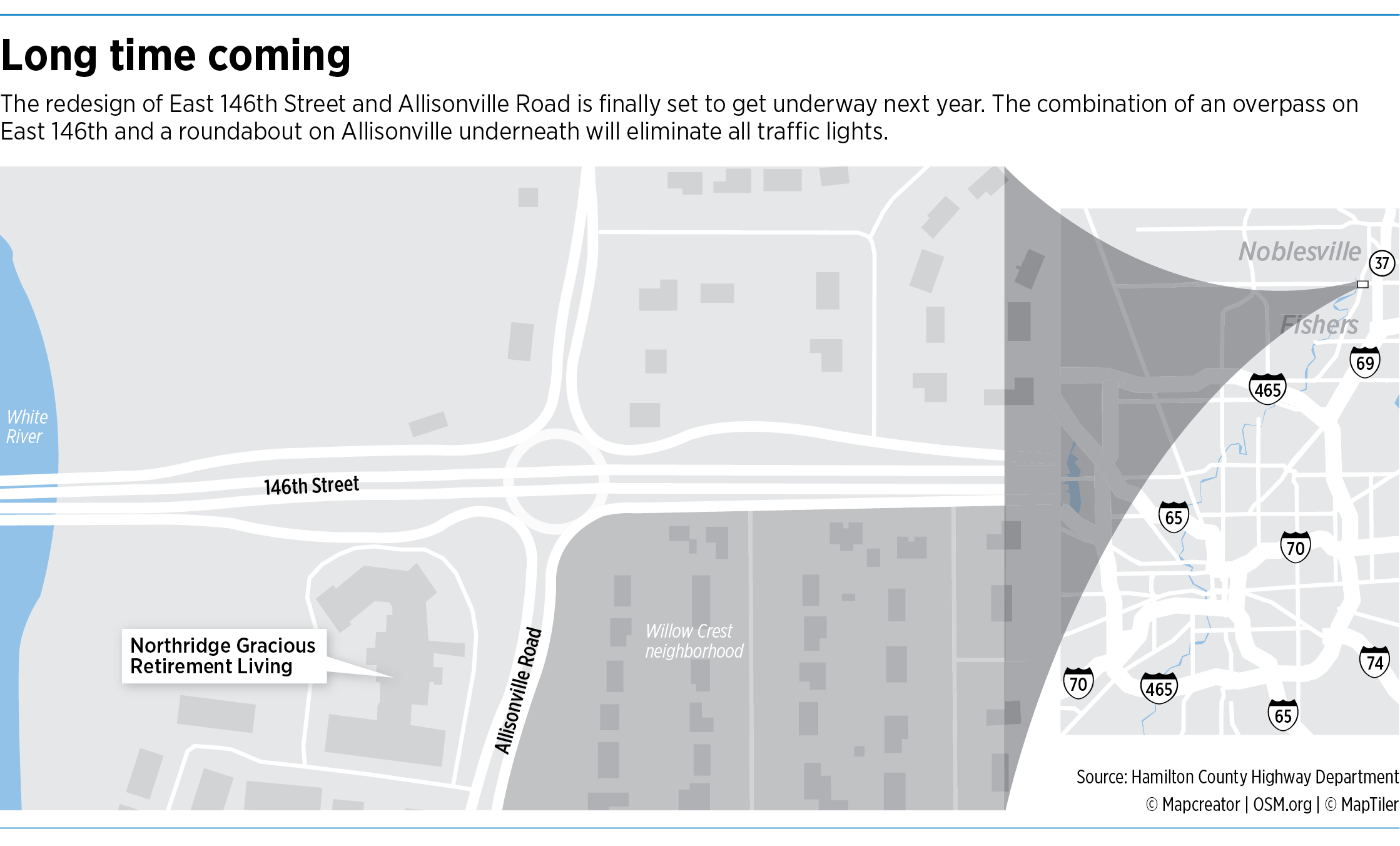 The county purchased 14 residential parcels for this project, and no businesses will need to move, according to Neal. Northridge Gracious Retirement Living is on the southwest corner of the intersection and Renner's Body Works autobody repair shop is on East 146th just west of the White River. Conner Prairie is about 1-1/2 miles south on Allisonville Road.
To accommodate large seasonal events at Conner Prairie, Neal said, Allisonville Road will be closed next year for 90 days after July 4 and reopen before Halloween. Construction crews will lower Allisonville by about 4 feet during the closure. East 146th Street will remain open throughout the project.
The Symphony on the Prairie concert season at Conner Prairie "is something we are definitely aware of, and we're trying to make sure that we get everything scheduled so that the disruption will be as minimal as possible," Neal said.
A public meeting was held for local homeowners Feb. 9, while letters went out to affected property owners last year.
"One of the things that's most important to us is getting public input of the people that are going to be impacted by it," Heirbrandt said. "Especially those ones in the [Willow Crest] neighborhood [on the southeast corner] and the nursing home that's there, to make sure that we try to address any of their needs and accommodate and take any recommendations that they may have as well."
Kelsey Fowler, sales manager for Northridge Gracious Retirement Living at 14532 Allisonville Road, said the retirement home will lose some green space in front of the building. Management's biggest concern, she said, is the ability of emergency responders to get in and out safely and quickly.
"We have free transportation for our residents," Fowler said. "A lot of them still do drive, but we're just going to encourage them to hop on [our] bus and utilize the bus as much as they can so they don't have to navigate that construction."
Steve Renner has owned Renner's Body Works at 8190 E. 146th St. since 1992. He said traffic backs up as badly now as it did before East 146th Street became four lanes in the early 2000s.
Renner said he hopes he "can weather the storm" throughout construction, but he expects the change to be positive for the area.
"It's going to make it a lot better when [drivers] come off the roundabout across the bridge. They're going to be able to enter my business a little bit safer, I think," he said. "So, I'm really excited about them getting started on it."•
Please enable JavaScript to view this content.