The owner of the Indiana Pacers plans to develop a $20 million commercial building adjacent to Gainbridge Fieldhouse in downtown Indianapolis.
Plans call for a 30,000-square-foot building to be constructed on a surface parking lot between the arena and an existing four-story building at the southwest corner of Delaware and Maryland streets. The building would have two levels above ground and one below, with proposed uses including a basement speakeasy-style tavern, a first-floor restaurant and a second-floor event center.
Pacers Sports & Entertainment, which also owns the WNBA's Indiana Fever and Pacers Gaming, is pursuing the development at 108 S. Delaware St. through a holding company known as Plaza Entertainment LLC.
PSE presented initial plans for the project to the Indianapolis Historic Preservation Commission on Wednesday and will return to the governing body in May for a vote on the development. The project must receive IHPC approval since it is in the historic Wholesale District.
Plans for the project refer to the building as the Bicentennial Unity Plaza Entertainment Complex . They show a contemporarily designed structure using light-colored brick and metal for most of the exterior. There would also be a semi-translucent glass curtain wall on part of the structure, along with composite wood panel accents. Pinstriped lights could also be incorporated into the design.
All three building levels would have about 10,000 square feet of space.
The speakeasy, which would take about 2,800 square feet in the basement, would have about 145 seats—a mix of general seating areas and private rooms. Some back-of-house operations would also be in the lower level.
The main entrance would be near the building's southeast corner, along Delaware Street.
The restaurant would seat about 210 people inside, with additional space for another 50 people in an outdoor space overlooking the Bicentennial Unity Plaza, now under construction north of the arena.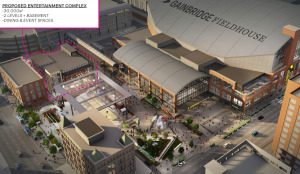 The event space would be able to accommodate about 300 people and have two outdoor areas—one facing the plaza and another along Delaware Street.
Tenants for the proposed building have not yet been made public. The building is expected to have one operator for the speakeasy, the restaurant and the event space. PSE intends to have a limited role in the building's management and receive a portion of the revenue generated by each space.
Rick Fuson, PSE chief executive, told IBJ the building would give the company "another opportunity downtown that we haven't had" by offering entertainment and event space for personal events like weddings and bar mitzvahs as well as corporate gatherings.
In addition to its sports endeavors, PSE oversees Gainbridge Fieldhouse, which hosts an annual slate of dozens of concerts and community events, but it has limited spaces for smaller events.
Fuson said the building would fit right in with the growing number of entertainment options on downtown's east side. He said PSE studied entertainment districts near sports venues such as Chicago's Wrigleyville and Milwaukee's Deer District, among others, to establish a model for what could be done in Indianapolis, adding that he believes there will "be enough excitement going on inside [the fieldhouse] that we can also bring it outside."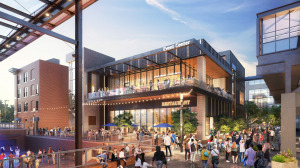 The project is complimentary to the ongoing $360 million renovation to the fieldhouse that will begin its third and final phase this summer. Much of that cost is covered by the city and the Capital Improvement Board of Marion County—part of a long-term deal struck in 2019. PSE has contributed about $65 million to the fieldhouse project so far, Fuson said.
The company initially acquired the land associated with the new building in 2019 as part of its $29.9 million purchase of the Maryland Street parking garage to make way for the plaza. The acreage was signed over to the CIB in 2021, which means PSE will use a land lease to build on the property.
The CIB last month announced the plaza will be funded through a $28.5 million grant from Lilly Endowment Inc. The space is expected to feature art sculptures, public restrooms, food vendor spaces and a community basketball rink that can be converted to an ice rink in the winter.
Fuson called the entertainment building a "significant investment" in downtown by the Simon family, which owns Pacers Sports & Entertainment.
"This building is being built with Simon and Pacers money," he said. "[Indiana Pacers owner] Herb Simon is as committed to downtown as he's ever been. He'll often say the city and the state have done more for him than he's ever done for them—but he's done a lot. [With this,] he wanted to make sure that we had everything that we could possibly have in downtown Indianapolis to bring people downtown."
PSE also bought the former DLZ building at Delaware and Maryland Streets in November 2020 for $8.4 million and renamed it the PSE Building, expanding its office operations there and establishing a temporary box office during renovations.
That building, 147 E. Maryland St., is now home to the company's marketing, sales and digital staff, as well as meeting spaces for large internal gatherings. Most PSE executive offices and community relations remain in the nearby Ascension St. Vincent Center, 201 Delaware St.
 Fuson said he wasn't sure if PSE would seek city-backed incentives for the project or if they were available.
"If there are potential [incentives], any developer would be foolish not to look at those opportunities," he said. "I'm not currently aware of whatever options there may or may not be—you can never say never. But we didn't make a decision to build this building based on anything other than the Pacers and Simon money."
Members of the Indianapolis Historic Preservation Commission were generally receptive to the project during comments Wednesday night, although some expressed hope that the designs would incorporate a historic component.
"To me, I look at it and it could be anywhere in the city—there's nothing that … ties it to its location within the historic district," said Kevin Murray, a member of the commission. "But that's our job. We're supposed to be mindful of that."
Commissioner Susan Williams suggested the building could be made slightly taller to better match the four-story building on the corner. And in reference to the entrance, she said PSE "might need to jazz it up" because it's in an entertainment district.
The project could break ground by the end of this year, pending city approvals.
Ratio Architects is the design firm on the project and Shiel Sexton has signed on as general contractor.
Please enable JavaScript to view this content.