Craig Prater, president of Indianapolis not-for-profit Heartland Film, announced his retirement on Wednesday after last week's Indy Shorts International Film Festival.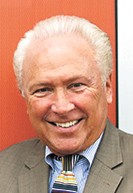 Prater joined the organization in 2016 and founded the Indy Shorts Film Festival, one of only 34 film festivals in the world that serves as a qualifying event for the annual Academy Awards in all three short-film categories.
Prater, 75, was not immediately available for comment.
This year's short-films festival, a week-long event that took place downtown, featured 201 independent short films that were selected from 3,300 nominations–the most in the festival's history. Films from more than 40 countries were showcased.
Three Academy-Award qualifiers were chosen out of the 201 films shown, and each received a $5,000 cash prize. In total, $31,000 was awarded across the event.
In addition to Indy Shorts, Prater also oversaw the Heartland International Film Festival, one of the largest independent film festivals in North America.
"Following an incredibly successful Indy Shorts International Film Festival and the direction he provided to organize the Heartland International Film Festival this fall, Craig Prater is retiring. We would like to thank Craig Prater for his vision and dedication over the past five years and wish him all the best in his retirement," Heartland Film Board Chair Betty Stilwell said in a written statement provided to the IBJ.
Prater began his career in film festivals as the executive director of the Palm Springs International Film Festival in California. He was then recruited by The Royal Thai government to lead Bangkok's film festival.
Please enable JavaScript to view this content.