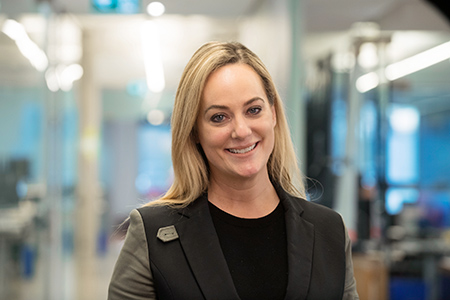 One of central Indiana's most prominent female executives plans to step down from Carmel-based KAR Auction Services Inc. two years after taking over a new business unit for the company.
Rebecca Polak, 48, is the chief legal officer and secretary of KAR, as well as the president of its TradeRev business unit. Her resignation from all positions will be effective Oct. 8, KAR reported in a regulatory filing on Thursday.
KAR, one of Indiana's biggest public companies and a giant in the auto-auction business, has big plans for TradeRev, which it bought in stages between 2014 and 2017 for $80 million, with the potential to pay another $75 million over four years, contingent on performance.
TradeRev provides a digital platform for live, dealer-to-dealer vehicle auctions, allowing them to electronically bid on and purchase used vehicles. KAR has been investing heavily in rolling out the service to new markets, resulting in significant operating losses for the TradeRev unit.
"Resigning from KAR and TradeRev was a difficult decision, particularly given the strong culture and great people I've been so fortunate to work with through the years," Polak said in a statement emailed to IBJ on Monday afternoon.
"After 15 years in the automotive and technology sectors, I am eager to explore the many new professional opportunities in front of me. And I look forward to watching KAR and TradeRev continue to grow and expand," Polak wrote.
Polak joined KAR in 2005 as associate general counsel and was promoted to the position of executive vice president, general counsel and secretary in 2007. In October 2017, she was appointed as KAR's chief legal officer and corporate secretary, as well as president of TradeRev.
In 2017, she said she planned to focus on expanding TradeRev's footprint beyond its presence in the U.S., Canada and the U.K.
"Over the next several months, we'll continue expanding into new markets and begin leveraging KAR's data analytical capabilities to enhance the TradeRev buying and selling experience," she said in a media release.
In 2018, TradeRev posted an operating loss of $53 million, and the unit is expected to lose another $60 million in 2019. KAR executives have said the losses are to be expected.
"TradeRev will lose money during the next couple of years as we focus on expanding to new markets and develop our existing markets and adapt the customer service model to the needs of our customers," KAR CEO James Hallett said in an analyst conference call for the company's third-quarter earnings in 2018.
"I'm even more confident today that TradeRev is a transformational product and is where dealer-to-dealer transactions are going," Hallett said.
According to the Thursday filing with the Securities and Exchange Commission, Polak and the company intend to enter into an agreement that will pay her $500,000 for consulting services from Oct. 8 through the end of the year. She also will receive severance benefits including her salary for the year and bonus.
Polak's total compensation for 2018 was $1,832,090 in salary, stock awards and other compensation, according a company filing. In 2017, her total compensation was $1,753,083.
TradeRev co-founder and chief technology officer Mark Endras will assume the role of president, a KAR representative told IBJ. KAR's general counsel, Chuck Coleman, will continue to serve in his role and also take on the responsibilities of corporate secretary.
News of Polak's impending departure comes soon after a bullish announcement about the unit's future.
KAR announced in late August that it planned to spend $3.75 million to establish a downtown headquarters for TradeRev in the Century Building at 36 S. Pennsylvania St. In the same announcement KAR said TradeRev would add 200 high-paying jobs by 2023.
TradeRev already employs more than 700 people across North America. The new positions will be in such fields as IT, finance, legal, human resources and operations.
In 2014, Polak was honored by IBJ in its annual Women of Influence program.
Please enable JavaScript to view this content.