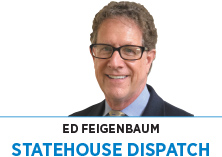 While the 2020 legislative session will be a short one in terms of duration—lawmakers should be leaving town by March 12—this simply means legislators must tackle many significant issues in a compact period.
Even though final action might fall short in key areas, expect a head start toward 2021 on some key items.
A lot will be new about this session: Three lawmakers have left since the end of the 2019 session and House Speaker Brian Bosma, R-Indianapolis, announced he will step down as speaker after a record tenure as the session winds down. He will be replaced by Rep. Todd Huston, R-Fishers, who will be a "shadow" speaker of sorts for 10 weeks.
The major agenda items will be familiar. Education, health care and criminal justice will dominate, and the governor's agenda will be addressed.
The high-profile #RedforEd Organization Day rally featuring a five-figure number of educators descending on the Statehouse campaigning for increased pay, insulation from test results, and reform of continuing education requirements caught the attention of lawmakers. However, other than schools and teachers being "held harmless" through a transition period from test results for funding and pay, respectively, little will be accomplished this session.
Onerous extern requirements will be adjusted, but there is no appetite among the Republican supermajority in either chamber to reopen the budget for teacher pay issues (but legislators might motivate districts to pass through more money to teachers). Despite flush funding, Republicans don't want to use one-time state cash for what they see as ongoing financial needs that should be handled at the local level.
The big education funding battle will occur during the 2020 campaign and any solutions will come in the 2021 budget session, but watch for a push toward consolidation of administration, services and resources.
Health care has emerged as a legislative concern.
Cost—particularly related to disposable income, price transparency, availability and market concentration of insurance and providers—will be explored, and pharmacy benefit managers will be portrayed as villains. A comprehensive solution will be two to three years in the making.
Other health issues—raising the tobacco-use age to comport with federal law, cracking down on vaping and beginning to focus on tax hikes on tobacco and vaping products—will take center stage.
As local officials continue to grapple with jail overcrowding and the need to expand or build new facilities, decriminalization of marijuana will be pushed, bail (read: cash) bonds will be a topic of debate to prevent pretrial offenders from filling facilities, and there will be yet another look at the impact of the past decade's never-ending reclassification of crimes.
Gov. Eric Holcomb, a Republican, proposed a series of gubernatorial quality-of-life initiatives, ranging from major (investing serious one-time capital funds in rural broadband) to minor (banning handheld cell phone use while driving). Democrats have chided the governor for thinking small (e.g., building a $50 million Indiana State Fair swine barn instead of investing in teacher pay or public health initiatives), but President Bill Clinton once delivered a long laundry list of seemingly inconsequential items to Congress that added up to significant improvement in the daily lives of Americans—and he won re-election.
While Democrats want some of the surplus spent on big-ticket human infrastructure items, Holcomb wants to maintain a healthy reserve and save money on interest and provide budget flexibility through spending cash on capital projects.
So don't expect a lot from this session beyond the promises you hear from Republicans going in. Much of the 2020 legislative work will be directed to helping shape (and immunize against) election debate and making a head start on some of the tougher, long-term issues that will be ripe for resolution in 16 months.•
__________
Feigenbaum publishes Indiana Legislative Insight for Hannah News Service. He can be reached at EDF@hannah-in.com.
Please enable JavaScript to view this content.