Tracy Weyand liked math as a kid. She was good at it. But there weren't many outlets or activities for that interest outside the classroom.
Students who like words can work at the school newspaper. Kids who are athletic can play sports. But kids who like algebra?
So today, Weyand, a math professor at Rose-Hulman Institute of Technology, is working to make sure girls have an outlet for their math interests.
She organized a student chapter of the American Association for Women in Mathematics first at Baylor University, where she taught after earning her doctorate, and now at Rose-Hulman, where she began teaching in 2017. And she's also organized a day for high school girls to come on campus for a day to play math games, solve math puzzles and generally see how math translates into real life.
The American Association for Women in Mathematics last month recognized Weyand's efforts.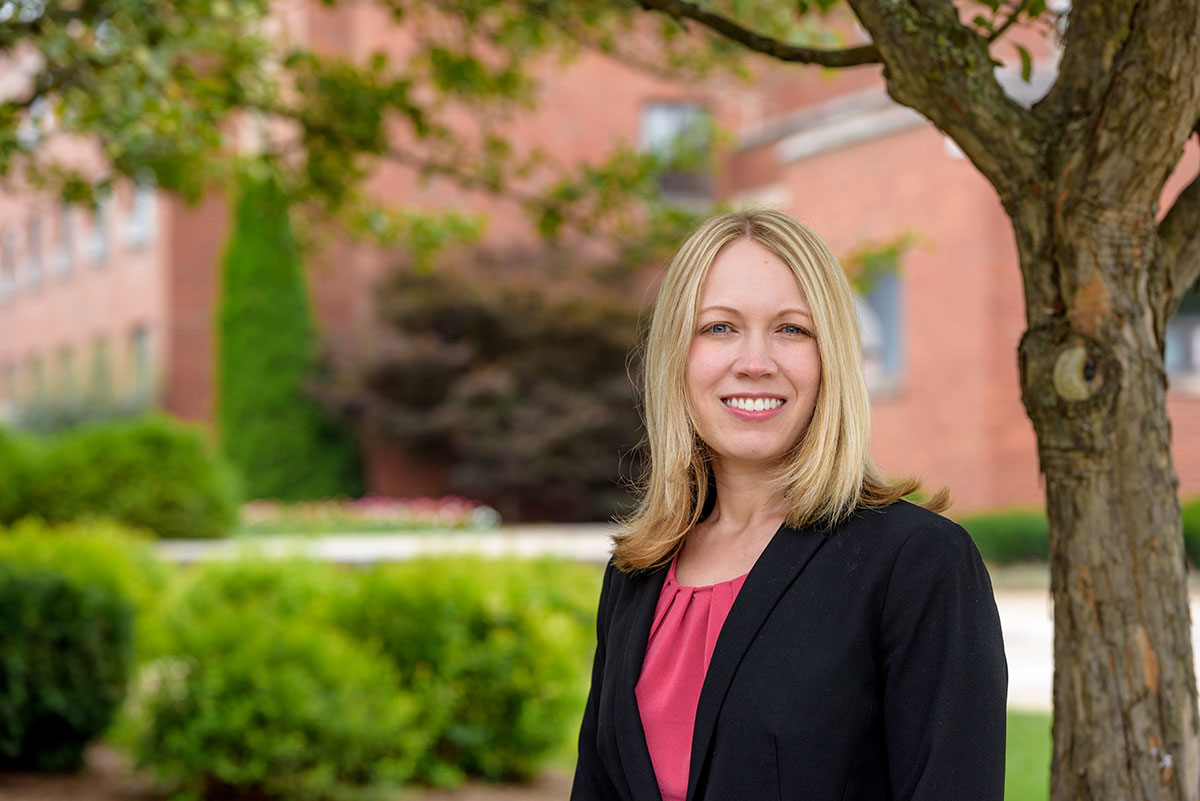 Why is it important to support girls and young women who are interested in math, especially at a school where most math majors are men?
It's all mental. It's about convincing [girls] that you are not alone, that it's OK to be into what you're into and that it's OK to be feeling whatever you're feeling about it.
There are a lot of different thoughts and feelings that cross your mind when you're one of only a few versus part of a majority. It always creates feelings of discomfort. And you just need to have an open environment where you can talk about that, where you can be supported.
Why did you want to create an opportunity for high school students?
It's important to show students that there is more to math than what they're probably seeing in the traditional high school classroom. I feel like a lot of people don't pursue a math degree because they view math as just sitting around and solving textbook equations, very curated equations.
I love giving them the chance to see that, in real life, problems are not so nice, neat and pretty. And that's what mathematicians actually deal with—solving big problems using math.
What do the high school kids do when they come to campus?
It's a sequence of activities. Each activity is run by a Rose faculty member, and then we have Rose students there helping out.
Each activity consists of two parts: There's a short, simple, introductory lesson, and then [the high school students] are free to run wild and have fun with the lesson. Sometimes that's them playing, for example, a card game and trying to figure out the best strategy by keeping track of what's winning, what's working.
Other times it involves them taking the geometry they just learned and using it to fold up paper to make pretty origami. One time they learned about three-dimensional shapes and then used a computer to start programming their own video game room.
Why do you think fewer girls focus on math as they get older?
There's actually also been a lot of research done on that. One of the thoughts that makes sense to me is that it's underlining stereotypes that we're [projecting] along the way.
When a girl gets a math problem wrong, for example, we might say: "Oh, that's OK." It's like saying: "That's what we expected from you."
A teacher might tell a boy: "You can do it." That's very encouraging. We're saying he should be good at this.
It could be very slight things that happen at a young age.•
Please enable JavaScript to view this content.