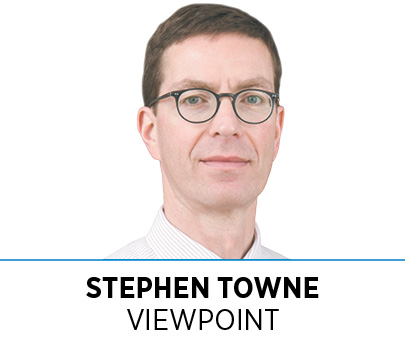 The monument of Thomas A. Hendricks (1819-1885) on the south lawn of the state capitol should go. A state legislator, U.S. representative, senator, Indiana governor and finally vice president, Hendricks was a white supremacist and is not worthy to be honored today.
An able debater and amiable backslapper, Hendricks was Indiana's leading Democrat by the start of the Civil War in 1861. On Jan. 8, 1862, he presided over the Democratic Party's state convention held in Indianapolis. Amid a war fought to suppress a rebellion by Southern states to preserve slavery, Hendricks gave a speech calling for Indiana and its neighboring states of the Old Northwest to leave the war and the Union and create a new Northwest Confederacy. The new nation would find its natural allies in the rebel states of the South, where the region's agricultural products were consumed. The Northwest Confederacy would have no problem with Southern slavery.
During the same disunion speech, he threw red meat to the party faithful, repeating standard racist arguments of the day: that freed black slaves would flood north to take away the jobs of Indiana's white workers; that African Americans lacked the "high intellectual and moral qualities that make an efficient soldier"; and more. Throughout his career, Hendricks played this race card better than any Hoosier leader.
Hendricks' speech that day was a huge hit among party members, so much so that, one year later, the Democratic majority in the General Assembly selected him to serve in the U.S. Senate.
There, he continued to mouth standard Democratic racist fare. He opposed President Abraham Lincoln's Emancipation Proclamation and the arming of black men to serve as soldiers and sailors to put down the slaveholders' rebellion. He voted against the 13th, 14th and 15th Amendments to the U.S. Constitution, which ended slavery, established equality under the law for all, and granted voting rights to African Americans. Only one other senator hit this racist trifecta. In speeches on the floor of the Senate in support of his votes, he argued that blacks could not merit citizenship.
Such sentiments strengthened Hendricks' popularity back home. He became governor and twice ran for vice president, winning on the second try in 1884. He died while in office in 1885. Immediately, Democratic newspapers in the city and state called for a prominent monument to honor him for his decades of loyal service to Democratic Party goals.
Key to Democrats' thinking was that, in 1884, Republicans and war veterans had erected a monument to Republican Party hero Oliver P. Morton, Indiana's governor during the war and then U.S. senator.
Many historians think Morton was our greatest governor. Among many achievements, Morton helped defeat the Confederacy, recruited Indiana's 28th U.S. Colored Troops regiment and, during Reconstruction, argued for equal rights for all Americans. Jealous of Morton's greatness, Democrats in 1890 unveiled a huge statue of Hendricks at the Statehouse to honor a mediocre white supremacist and disunionist.
Today, the Hendricks monument represents a celebration of racist ideals that Indiana's residents reject: disunion, white supremacy, unequal justice and the perpetuation of slavery. That towering sculpture is repugnant to American ideals of equality, justice and freedom. It is an embarrassment. It's time for the Hendricks monument to be removed.•
__________
Towne is university archivist at IUPUI and a Civil War historian.
Please enable JavaScript to view this content.