A planned 79,000-square-foot clubhouse at the heart of the Holliday Farms in Zionsville is expected to bring a variety of other sports and dining options to the golf course community.
Westfield-based Henke Development Group presented development plans for The Club at Holliday Farms to the Zionsville Plan Commission this week to show the variety of amenities it will include both inside and outside its proposed 78,550-square-foot clubhouse. The planned building at 3950 Club Ridge Estates, next to the Pete Dye-designed golf course's 18th hole, will include an entire wing dedicated to athletic pursuits beyond golf that might draw in residents with other interests.
"It not only serves our golf course, but also our community as a whole," Phil Sundling, Henke's development director, said.
The Zionsville Plan Commission voted unanimously to approve the petition for a Henke's development plan.
Holliday Farms is a 600-acre golf community west of Michigan Road, between Willow Road and 146th Street in Zionsville. The first three of eight planned neighborhoods in the development are finished, with roughly 100 homes finished and another 100 expected to be completed by the year's end. The overall project is set to be completed over the next decade.
The golf course, which opened June 27, was featured in Links Magazine as one of the top 12 new courses in the world.
Construction on the clubhouse is slated to start later this year and should be finished by early 2023.
"The clubhouse includes our golf pro shop, golf locker rooms, a golf simulator lounge where members can come indoors and hit golf balls, they can test and get fitted with new gloves or even come in and hang out with friends and family," Sundling said.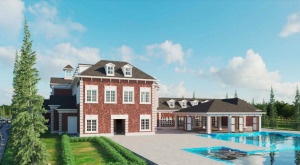 Proposed non-golf-related amenities include both indoor and outdoor pools, six tennis courts and eight pickleball courts, outdoor patios with fire pits, a spinning studio, a multipurpose room and dance studio, a weight room, a gymnasium with a full-sized basketball court, a cardio and circuit training studio, a banquet and event center, a four-lane bowling alley and a grab-and-go cafe, as well as an upscale steakhouse with a full bar.
"It's very similar in size to [The Club at] Chatham Hills in Westfield," another Henke development, Sundling said.
The nearly 9-acre site's layout includes 235 parking spaces near the main entrance. The developers did not disclose a price for the clubhouse project.
The overall development cost for Holliday Farms was estimated at more than $550 million.
Please enable JavaScript to view this content.