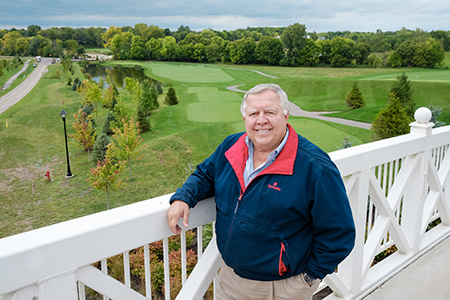 Steve Henke's interest in real estate began when he broke his leg in the fifth grade.
The developer behind Westfield's Chatham Hills and Grand Park Village and the soon-to-be-built 600-acre Holliday Farms in Zionsville spent months cooped up inside. His teacher had to bring him school assignments, and friends who wanted to see him had to visit. Since he couldn't play sports as usual, they broke out Monopoly.
Henke estimates he played more than a thousand games of Monopoly, purchasing and trading and building on properties, while waiting for his leg to heal.
He's been intrigued by real estate ever since.
It's been nearly 40 years since he developed his first office project while practicing law in Carmel. He's spent the past decade developing golf course communities in Hamilton County, and now, he's stretching into Boone County.
Henke doesn't think small. In each of his golf course communities, he spent years purchasing the necessary land and making plans. Working with 500-plus acres and a golf course community allows him to create resort-style living, which he said sets him apart from many other developers.
Steve Lains, CEO of the Builders Association of Greater Indianapolis, said Henke is a contrarian among builders.
The size of Henke's projects was the norm before the 2008 economic downturn, Lains said, but now most builders are limiting their risk by tackling subdivisions of 100 to 150 acres.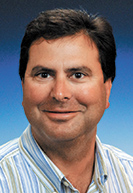 Lains
In contrast, Henke amasses large parcels and targets a higher-end customer who can afford homes with lots of amenities.
He then markets aggressively, encouraging potential buyers to move quickly so they don't miss out, Lains said.
And he's building golf courses during a time few have been proposed.
The Holliday Farms course will be only the second new one built in central Indiana in the past decade or more, Mike David, executive director of the Indiana Golf Office, told IBJ earlier this year.
Like The Club at Chatham Hills, which opened in 2016, the Holliday Farms course is designed by famed golf course designer Pete Dye.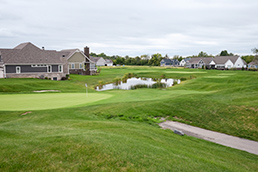 Steve Henke says golf courses, such as The Club at Chatham Hills, are a draw even for non-golfers. "It's all about creating a lifestyle and resort living," he says. (IBJ photo/Eric Learned)
Holliday Farms recently received the last of the town approvals needed to move forward. Henke said development likely will take 10 to 12 years to complete, with its value exceeding $550 million.
Throughout the sprawling property along Michigan Road, just north of Willow Road, Henke's team has staked out the 18 holes with PVC pipe.
Driving through the property recently, Henke was quick to point out its beauty. Eagle Creek runs along its western border, and from Michigan Road, it's hard to appreciate how wooded the land really is, he said.
Henke also detailed the terrain in project documents filed with the town.
"Nestled among tree-adorned rolling hills and meandering creeks, Holliday Farms emerges—unlike most terrain familiar to central Indiana, carved out by Mother Nature herself," he wrote.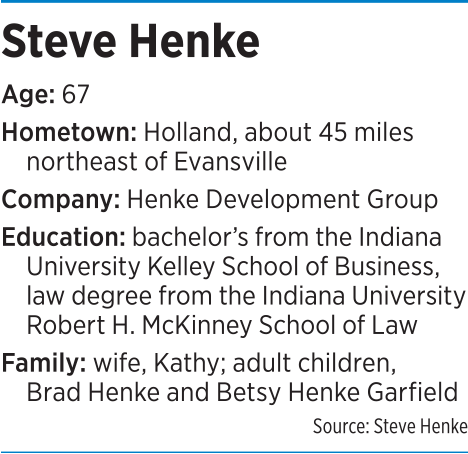 Preparing to build
Much of the 600 acres (the project started with 597 acres, but Henke recently scooped up three more parcels; he's willing to buy more if property owners near the site are willing to sell) is currently used for agriculture, creating a natural clearing for the course and homes. Henke said he plans to keep deforestation to a minimum.
Construction on the course should begin next summer and likely will take two years. Lots for the residential component, which will feature a mix of apartments and single-family houses—from large estates to smaller garden homes—will be available next fall or early 2020.
How many homes the community will encompass has yet to be determined, but at full buildout could be about 1,500 on 800 acres.
Bridgewater, Henke's first golf course community, has about 750 homes on 750 acres, but homebuyers in the early 2000s overwhelmingly wanted houses on large pieces of land.
Today, more are looking for small, low-maintenance properties, allowing for denser housing in new golf course communities.
In Holliday Farms, the types of houses will be multi-generational. First-time homebuyers, families and empty-nesters will all find homes and amenities they're looking for, Henke said.
Single-family houses will cost $600,000 to $2 million, while villas, town houses and condos will start at about $395,000.
The project also includes a commercial section that will allow for restaurants and retail along Michigan Road.
'Nothing to this scale'
Henke bought the property about a year and a half ago. He said he couldn't pass up its location or beauty.
"Zionsville didn't have anything like this," he said.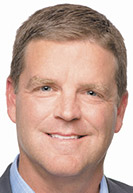 Haak
Mayor Tim Haak agreed. Town officials had been meeting with Henke about a potential project a few years before he had the land under contract.
Residents and the town have been overwhelmingly supportive of the project, Haak said.
Early on, Henke made it a point to meet with residents who would be affected. He listened to their concerns and was willing to make changes, Haak said.
"There are more people inquiring about memberships than actually showing concern," he said.
"There's nothing to this scale in all of Boone County."
Henke has an affinity for finding undeveloped swaths of land in the countryside.
It was only five years ago that he introduced Chatham Hills in northern Westfield. The features he liked about the Holliday Farms land are the same that drew him to Chatham Hills—rolling hills, meandering creeks.
Henke spent nearly a decade piecing together parcels to create Chatham Hills, which stretches from 199th Street to State Road 38 and from U.S. 31 to west of Horton Road.
In October, the community's clubhouse will officially open. Amenities include a bowling alley, an indoor pool, an outdoor pool with a swim-up bar and a volleyball court.
Those amenities are what draws buyers to golf course communities. In fact, Henke said, as many as 60 percent of people who live in golf communities don't play golf.
"It's all about creating a lifestyle and resort living," he said.
Chatham Hills is the second golf course community Henke has built in Westfield. A decade ago, Bridgewater reshaped Westfield.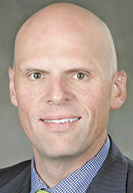 Burtron
Todd Burtron, Westfield's chief of staff, has served the city since 1996, and he's seen its transformation.
Henke has played a huge role in that change, he said.
Many communities long for a golf course community, and Westfield is lucky enough to have two, thanks to Henke, Burtron said.
"Steve is a visionary," he said.
Starting small
Henke's real estate career began in the 1980s when he was practicing corporate and real estate law.
He and two other attorneys were sharing a 450-square-foot office in Carmel. Quarters were cramped, so they decided to build their own office building.
They decided they would use about 2,500 square feet of the roughly 9,000-square-foot building. When they started construction, they had no other tenants. Before it was complete, the building was full, Henke said.
From there, he developed small office and residential projects across central Indiana while practicing law at Coots Henke Wheeler in Carmel.
In 2008, while working on the Bridgewater project, he founded Henke Development Group with his daughter, Betsy Henke Garfield. A few years later, son Brad Henke joined the family business.
Did he ever think he'd start his own real estate and development firm, overseeing projects of Chatham Hills' and Holliday Farms' size?
"Not to this extent," he said. "Not at all."•
Please enable JavaScript to view this content.