Hinkle Fieldhouse will host an NCAA Tournament game for the first time in more than 80 years, when action tips off at the venue March 19.
The historic gymnasium is in the midst of a transformation that will see an NCAA-branded court placed atop the hardwood floor installed when it opened in 1928. The court, which will be switched over twice—for the tournament's Second Round, then for the Sweet 16—is being installed this week.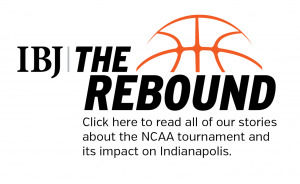 The venue last hosted an NCAA tournament game in 1940.
Butler University Athletic Director Barry Collier said having fans at the games to enhance the experience for teams playing at Hinkle as part of March Madness will make for an "incredible moment" for the school—and fans of the game.
"For Butler, it means a number of things," he said. "It's a significant amount of exposure to a facility that means a lot to us and that's been around for a very long time, but it also brings attention to the university, which we appreciate."
The school is celebrating the 10-year anniversary of its own March Madness runs, which led to appearances in back-to-back National Championship games.
IBJ spoke with Collier and Butler President James Danko about how this years tournament and those trips to the Final Four—including one at Lucas Oil Stadium in 2010—intertwine.
Please enable JavaScript to view this content.