When Adam and Allison Barlow hatched the idea of creating a retreat and counseling center for military couples and first responders, they were hoping to find a remote, tranquil location that could also double as a short-term rental for family reunions and small parties.
They found it on the site of a former river mill established in 1846 in southern Shelby County. The lumber mill was converted into a 5,000-square-foot house in 1950, with four bedrooms, 3-1/2 baths and stunning views of the Flat Rock River.
Adam Barlow, a real estate agent who owns Full Canopy Real Estate Brokerage, first looked at the property in 2018, then owned by Robert Driver, a former Indianapolis Opera director. It had been on the market for seven years for nearly $1 million, which Barlow thought was overpriced for the Shelby County area.
In December 2019, the couple purchased the house and 18.4-acre property for $550,000. Since then, Barlow said, they have invested about $75,000 in renovations and furnishings. Built in 1861, the house has a large dining room, an expansive living room, study, family room and a deck overlooking the river.
"We've completely redone the kitchen with new cabinets, countertops and appliances and all the floors. We really wanted to keep that 1950s estate feel to it," he said. They salvaged the floors, four fireplaces and trim, he said.
"It's just a fascinating piece of Americana," Barlow said. "We've been able to preserve our county's history."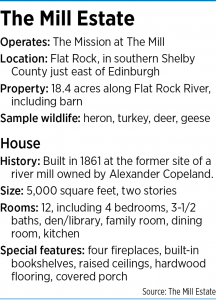 Now, the Barlows hope the home can serve as a respite for military and first-responder couples.
They know the challenges military couples face when being separated. Adam Barlow has been on National Guard deployments in Afghanistan and in the states. He's acutely aware, too, of the heavy toll military service can take on marriages and life itself.
Barlow, 35, an Indiana Army National Guard major, said five of 60 soldiers in his platoon in Afghanistan committed suicide within five years of their return in 2010. He said his research for a doctoral ministry degree found relationship and financial problems and substance abuse form the perfect storm to raise chances of suicide in the military.
The couple's not-for-profit, called The Mission at The Mill, offers these military couples a free weekend haven to completely unplug and concentrate on their marriages. "Our goal is to strengthen and enrich marriages," Barlow said.
"We are a Christian organization. We want to focus on one-on-one counseling and building stable marriages," he stressed. "We're trying to keep relationships from breaking down."
The idea was hatched, Barlow said, after he and his wife attended a one-on-one marriage retreat in Mexico when they had been married five years. "That retreat put us on a firm basis. We didn't think we had any issues. But issues were there. They could have been problems later. That set us out on this path."
Currently, the house has five beds and two futons and can sleep 12 people. Barlow said he plans to renovate the third-floor attic to provide more bed space. For short-term rentals, people rent the whole house, so he believes the property is ideal for family reunions and get-togethers or events such as baby and wedding showers.
The couple's long-term goal is to create similar sites in places with large veteran populations or nearby military bases. Barlow said he also would like to get enough funds so they wouldn't need to do short-term rentals.
Military couples, he said, also have The Mill Estate to themselves, checking in Fridays and leaving Sundays. He and Allison provide two to four counseling sessions and a curriculum tailored to areas identified by each couple on the organization's website (themissionmill.org), including relationship problems, finances, and other stresses in their lives. The Barlows, married eight years, will refer couples to resources to deal with substance abuse and suicide, if needed.
Providing one-on-one counseling for couples is what differentiates their counseling from group sessions offered to military families, Barlow said. Both he and Allison, a pharmacist, have done pre-marital and marriage counseling at their church, Mount Pisgah Baptist Church in Shelbyville, and in community and military settings. Adam earned a master's degree in divinity in 2015 and expects to get his doctorate in ministry in transformational leadership in 2022, both from Indiana Wesleyan University.
Military and first-responder families cope with unique situations, such as long separations, deployments, trauma and combat. "They see and deal with some of the worst things in our society. It's hard to see what they do," Barlow said.
National Guard members, too, live all over Indiana and, if they're having problems, Barlow said, sometimes it's too late before officers notice they need help because members serve only monthly. With The Mission at The Mill, the idea is that people will sign up early to help prevent relationship problems and divorces.
"They have the whole property to enjoy and get away and talk about goals and their dreams," Barlow said. "They will leave refreshed and have some goals to work on in their marriage."•
Please enable JavaScript to view this content.