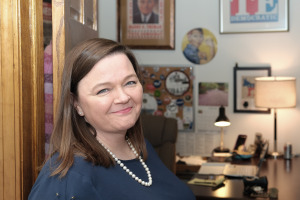 Indianapolis Mayor Joe Hogsett on Wednesday praised the job done by Kate Sweeney Bell, who stepped down this week as chair of the Marion County Democratic Party after a tumultuous year plagued by accusations of discrimination and conflicts of interests.
Hogsett said Bell, who is also county recorder, didn't do anything different than past party leaders to deserve the criticism. Bell was chair of the party for five years, during which all countywide seats remained Democratic.

As party chair, Bell had the ability to fill any slots not taken by elected precinct committee people, or PCs, by appointment. In a process known as slating, precinct committee members pre-choose a candidate for each office up for election and support the slate's primary bids.
In February, Black Indianapolis Democrats called for Bell to resign, alleging that she had shut out Black candidates through the PC appointment and slating processes. Several candidates also chose not to participate in the slating process in protest of alleged discriminatory practices.
Hogsett said Wednesday that Bell didn't do anything out of the ordinary.
"I've known very closely, every Democratic and every Republican County chair there's ever been in my adult life and they've all done the same thing. They have filled vacancies," Hogsett told IBJ. "So Kate, I think, has been unfairly singled out for doing what county chairs have done for 50 years."
Rep. Robin Shackleford, chair of the Indiana Black Legislative Caucus, was among the Black Indy Democrats calling for Bell to resign. Shackleford said the difference between Bell and other county chairs is that Bell didn't attempt to fill the positions before appointing the open slots. Shackleford said this led to many open slots for appointments.
Advocates for Bell's resignation also said her ability to appoint PCs while running for county clerk created a conflict of interests. But Hogsett said Bell was the chair of the county party during her run for her current position as Marion County recorder and there wasn't any controversy during that time.
"I may be mistaken, but I don't recall anybody objecting to her serving both roles," Hogsett told IBJ.
Shackleford said issues began when Bell did not address concerns from Black Democrats that there was a lack of outreach and support for minority candidates. When Bell announced that she would be running for Marion County clerk, Shackleford said she and other advocates were concerned that Bell would control both the county party and the elections process.
"When she was running for clerk, we were like, 'OK, that is too much power for this person to have,'" Shackleford told IBJ.
Hogsett said Bell advanced Marion County Democrats during her time as chair, which included an historic reelection campaign for the mayor.
"I might say as a final matter that I think that Kate has served the party extraordinarily well. I think her record of winning elections in Marion County is unprecedented," Hogsett said.
The path forward
In the next 30 days, the Marion County Democratic Party Central Committee—made up of PCs and vice PCs—will caucus to choose a new party chair. Three organizations are asking that the next chair be the county party's first Black chair.
The joint statement released Tuesday from Concerned Clergy of Indianapolis, National Action Network of Indiana and the Baptist Ministers Alliance called for the next chair to also not be in an elected position to avoid conflict-of-interest concerns.
Hogsett said he's supportive of the Marion County Democratic Party having its first Black chair. The mayor doesn't get a vote in the process, but he said he will provide leadership if the group seeks his perspective.
Shackleford said the future chair of the party should be forward-thinking, familiar with the PC process and raising money, and skilled at getting voters involved.
Shackleford also said she's not done critiquing the current slating process. Minority candidates have had a complicated relationship with the process, Shackleford told IBJ. Slating can promote diversity by giving party-backed candidates of color a boost, but recently it has gone the opposite direction, she said.
Several candidates running outside of the slate this year managed to win their primaries, including District 46 Senate candidate Andrea Hunley. This anecdotal evidence and more technology connecting voters to candidates shows Shackleford that an alternative system could work, she said.
Please enable JavaScript to view this content.