Candidates for Indianapolis mayor used their first debate of the race to lay out their plans for regionalism and tackling Indianapolis' road problems.
The debate was the first of 2019 between Indianapolis Mayor Joe Hogsett, a Democrat, and longtime state Sen. Jim Merritt, a Republican.
Hosted by the Indianapolis Business Journal and Indy Chamber during the chamber's annual HobNob event at the downtown Crowne Plaza, the debate largely focused on infrastructure, regionalism, social inequity and public safety.
In the hour-long debate, moderated by IBJ city government reporter Hayleigh Colombo, the candidates were asked to direct their answers to the moderator rather than each other. But that didn't stop Merritt from criticizing his opponent's first term.
On infrastructure
The candidates disagreed strongly on a topic of upmost importance to voters: how to pay for fixing and maintaining the city's 8,000 miles of roads.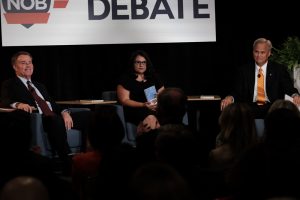 Hogsett earlier this year introduced a regional plan that pools future income tax revenue from a nine-county area to pay for infrastructure improvements throughout the region. Mayors in cities surrounding Indianapolis—particularly those in Hamilton County—have balked at the idea, saying the plan unfairly creates winners and losers. Hamilton County, for example, would contribute more to the fund than it would receive.
Thursday night, Hogsett defended his plan, saying he believes his idea is a compelling one and provides a solution without creating a new tax, such as a commuter tax, which also has been an unpopular proposal. He wants to see his plan "fully vetted" but said he's open to discussing other ideas.
"The truth is every day nearly 200,000 people get up and drive into Indianapolis from outside of our county," Hogsett said. "They go to work, and when they drive home that night, they take their income tax home with them. That is fundamentally unfair to the residents of Marion County."
Meanwhile, Merritt has proposed adding optional toll lanes on commuter-heavy roads such as Binford Boulevard and Fall Creek Parkway. The toll lanes would give drivers traveling downtown from the suburbs an express lane if they are willing to pay for it.
Thursday night, he said the toll lanes could create new funding to help address the city's infrastructure problems.
"I see that as a real possibility for the future of our infrastructure," he said.
Merritt said Hogsett's regional plan wouldn't work because the other central Indiana communities that see their income taxes go toward the fund wouldn't see any benefit from it.
"Mayor Hogsett kind of went solo and did not talk to any of our neighbors," he said during a press conference following the debate. He said the other mayors understand that what's good for Indianapolis will be good for the region, but any plan needs to be a team effort.
Merritt said he's been talking with mayors in other central Indiana communities about the creation of a regional development authority that could oversee the deployment of solutions to regional issues, such as infrastructure. New taxation "might be on the table" to fund that effort, said Merritt, who does not support a commuter tax.
Hogsett told reporters during a separate press conference following the debate that he's meeting with central Indiana chief elected officials tomorrow, when he expects they'll discuss a regional plan for funding road improvements.
"I don't know what their response will be, but I will tell you that I think as a collective group they understand the need for the regional solutions to our infrastructure," he said.
He said he would not be a fan of asking Marion County voters to pay any type of new tax, since they already carry the burden of paying for the infrastructure that supports "all of central Indiana's economy."
Merritt on Thursday night also said he supports lifting the ban on light rail in the city, a proposal that has previously died in the Indiana Senate, though Merritt has supported an end to the ban. While Hogsett didn't specifically say whether he'd support light rail, both candidates said providing multiple transportation options is important. Hogsett said one of the challenges in implementing light rail in the city has been high cost.
On poverty
Both candidates agreed poverty is an issue facing the city, where 20 percent of the population is affected by it.
Merritt said it's important to discuss food deserts and food insecurity when talking about poverty.
He was critical of Hogsett's plan to combat food insecurity in Indianapolis, which involves using public funds to transport people to grocery stores via Lyft.
Merritt called for a "robust" program in which food is delivered to people's homes, saying "Lyft is decaying neighborhoods."
He also proposed the idea of creating a food tax increment financing district to help those who are struggling.
Meanwhile, Hogsett said quality education is the ticket to pulling people from poverty. He touted his Indy Achieves Promise Scholarship, a new program sponsored by the city that provides financial aid to low-income students from Marion County who attend IUPUI or Ivy Tech Community College.
As more jobs require some education beyond high school, ensuring Marion County residents have educational opportunities is important, Hogsett said. His program helps provide funding to make post-secondary education more accessible.
Hogsett largely used Thursday night's debate to tout the programs that his administration has implemented or introduced. In his closing statement, he said he's loved serving Indianapolis and asked for another four years to continue his work.
"Indy and its best days are still ahead of us," Hogsett said. "Don't let anyone tell you differently."
In his closing statement, Merritt asked residents whether they feel safer now than they did three years ago and if they feel Indianapolis is better today than three years ago. If voters want the status quo, they should elect Hogsett, Merritt insisted. But if they want a transformational leader, they should vote for him, he said.
"I believe that the best part of Indianapolis is its people," Merritt said. "As mayor, I will work very hard to make sure that we all have a great, great place to live."
Please enable JavaScript to view this content.