Indianapolis Mayor Joe Hogsett and State Rep. Robin Shackleford disagreed Tuesday night over whether a tax increase is a possible solution to the city's pothole-ridden roads.
The disagreement came during the first public faceoff between the pair of likely Democratic mayoral race frontrunners, since both did not attend a previous town hall. Candidates Clif Marsiglio and Larry Vaughn also took part in Tuesday's event, which was hosted by The Indianapolis Star.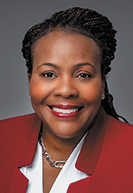 The most notable divide in the 90-minute panel came when the candidates were asked for solutions to the city's road funding woes.
Indianapolis' state funding for city roads per vehicle miles traveled is among the lowest in the state. A report from Indianapolis-based engineering firm HNTB Corp. using 2019 data found the city would need $635 million in additional annual funding to maintain its roads. That figure is expected to reach $1 billion in 2023 when adjusted for inflation and increased construction costs.
Shackleford called the state of the city's roads "a crisis" and said that all options are on the table, and she's not opposed to a tax to fix the problem.
"I'm hearing from people that they are willing to pay a little bit more. I don't know what that little bit one looks like, but that may be an option," Shackleford said.
Hogsett, who has avoided tax hikes during his seven years in office, said the option of any additional taxes to Marion County residents is not on his table.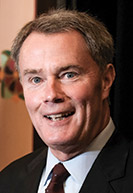 "We are a donor county. We pay into state government much more than Marion County receives," Hogsett said. "And I'm not going to ask Marion County taxpayers to fund any of the roads."
Shackleford also said that if elected, she would be relentless in demanding change to the road funding formula from the Indiana Statehouse.
Hogsett plans to "stay the course" on crime
If reelected for a third term, Hogsett said he would "stay the course" on his administration's current crime-prevention efforts. Under Hogsett, the city has allocated federal pandemic recovery funds toward a three-year, $150 million violence-reduction plan.
Hogsett insisted the plan is working, citing a decrease in criminal homicides in 2022 when compared to the two previous years.
"It's making a difference," Hogsett said. "Last year alone, 2022, we saw the largest single decline in murders in the history of [the Indianapolis Metropolitan Police Department]."
Criminal homicides in Indianapolis fell from a record 252 in 2021 to to 212 in 2022, a decline of 16%. IMPD has existed since 2007.
In a poll of her legislative constituents, Shackleford said 60% of respondents said they did not feel safe in their own neighborhoods. Shackleford said she would reinstitute the public safety director role and create new regulations for officer-involved incidents. Those measures were part of a longer crime plan she announced last week.
Shackleford also touted her involvement at the Indiana Statehouse in the creation of House Bill 1006, which mandated de-escalation training and the tracking of officer misconduct, and created a misdemeanor for officers turning off body cameras. She said that IMPD should be checked to ensure de-escalation training is occurring regularly.
Tuesday's full town hall is available to watch here. Party primaries are May 2.
A Republican mayoral candidate town hall is scheduled for Thursday at 7 p.m. The Republican candidates for mayor are Abdul-Hakim Shabazz, Jefferson Shreve, the Rev. James W. Jackson and John Couch.
Please enable JavaScript to view this content.