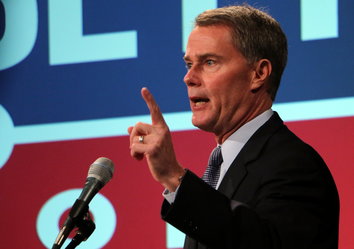 Indianapolis Mayor Joe Hogsett on Monday evening unveiled his $1.2 billion spending proposal for the city's 2020 budget, most of which is dedicated to public safety, the criminal justice system and public works spending on roads and bridges.
But there's at least one big change: Starting next year, the city of Indianapolis will no longer fund a preschool program that launched five years ago under former Mayor Greg Ballard.
Starting next school year, the 4-year-olds that were served by the city's program will be absorbed into the state's On My Way Pre-K program, eliminating the need for city funding. However, the state did not provide funding for 3-year-olds and the city will not provide funding either.
The Indianapolis preschool program, launched as a five-year program by former Mayor Greg Ballard, cost the city $4 million annually and is administered by the mayor's Office of Education Innovation.
Hogsett's chief of staff, Thomas Cook, said the mayor's office sought corporate and philanthropic support to keep the preschool program for 3-year-olds running. But, he said, "Ultimately, neither the corporate or philanthropic [communities] expressed an interest in continuing to fund just 3-year-olds."
Without outside support, Cook said, "There wasn't a particularly compelling financial argument to just fund the 3-year-old program."
Other highlights of the mayor's spending plan, which will have to be vetted and approved by the Indianapolis City-County Council, include a 2% raise for police officers and firefighters, $2 million for a new Indianapolis Fire Department training center at the city's criminal justice complex in Twin Aire, $1.2 million for body camera equipment for police officers, and $500,000 to address food insecurity.
The budget will take in roughly $171,500 more than it spends, leading Cook to characterize it as the "third consecutive balanced budget" since Hogsett took office in 2016.
Hogsett told members of the City-County Council that the budget "advances our strategy of fiscally responsible investments in our neighborhoods [and] public safety."
Cook said the budget funded top priorities of Hogsett's administration. During the process, city and county agencies submitted spending requests that were "in excess of $100 million more than the revenue we have available to us," Cook said.
Hogsett's team then translated those spending wants to funding "what the city needs," Cook said.
Hogsett, a Democrat, has previously enjoyed bipartisan support for his budgets, with last year's plan passing the Indianapolis City-County Council unanimously.  But it remains to be seen if the council will have the same bipartisan spirit this year as Hogsett runs for re-election this fall against Republican challenger Jim Merritt, a state senator.
The Marion County Republican Party released a statement Monday criticizing Hogsett for "[creating] a budget proposal without input from his Republican colleagues on the City-County Council," according to a statement from Marion County Republican Party executive director Oliver Wise.
The city's fiscal office said it expects higher local tax revenues next year, which allowed it to fund priority projects. Property and income taxes are the main source of funding for the budget.
The city expects to receive $371 million in property tax revenue next year, 4% more than last year. It also projects $354 million in income tax revenue, which is 1% more than last year.
Cook said the increased revenues are "a sign of economic strength of the city."
The city's transportation infrastructure investment for 2020 is a planned $118 million, including $40 million in bonds that will separate approval from the council. More than $31 million will be dedicated to stormwater projects, and $1.5 million will be added to the Department of Public Works' budget for the department to create a second personnel shift.
Other highlights of the budget include the mayor's plan to make permanent a recently launched pilot program wherein the city hires panhandlers to do city beautification work, as well as a $250,000 increase for the city's crime prevention grant program, a $1.3 million increase for Indianapolis' three community mental health centers, and a $100,000 increase for the Indianapolis Arts Council.
A 2% spending increase at the Indianapolis Metropolitan Police Department will also allow it to raise the starting salary for police and firefighter recruits to $51,000 per year.
Hogsett's staff said the city both underspent its budgets and had higher revenues than expected each of the last three years, and that that trend should continue.
Controller Fady Qaddoura told reporters earlier Monday that the city is crediting a "multi-year strategy that got us where we are today helping the city manage its fiscal position."
"The combination of underspending and growth is what allowed us to balance our budget," Qaddoura said.
Council Democrats released a statement following Hogsett's unveiling of the budget stating that "residents can be assured your Democratic caucus will be asking the challenging questions and reviewing every proposed agency budget to ensure our city operates with sufficient financial resources to serve all of our residents."
Council Minority Leader Mike McQuillen told IBJ he was not concerned about what Hogsett presented Monday, but rather what was not presented.
McQuillen and other Republicans, including Republican mayoral candidate Merritt, have expressed displeasure that Hogsett's team has come back to ask for more money for various programs throughout the year, instead of at budget time.
"It's not what I heard, it's what I didn't hear," McQuillen said. "I'm just a little cautious at this point because I don't know what is in [the budget] and what's out."
Each department's budget will be separately heard and approved by relevant City-County Council committees. The soonest the full budget would pass is at the September full council meeting.
Please enable JavaScript to view this content.