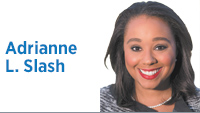 Visionary leaders come once in a lifetime, and our last one in Indy came at the beginning of my lifetime. I can only hope that another will come during the rest of my lifetime—someone willing to risk the "right now" for the future.
We have a lot of quick fixes at play, when what we really need is long-term investment in equitable outcomes (including education, quality of life, crime reduction and affordable housing), strong sustainable infrastructure, and talent retention across professions (including skilled labor).
That's absolutely not a sexy campaign, but it's a necessary one. In the late Mayor Bill Hudnut's 1978 State of the City address, he referenced Gen. 11:4—"Come let us build a city"—and promised Indy residents the city we have today. And with a pragmatic approach, over his 16 years in office, he delivered. We owe it to him to sustain it and to deliver 30-plus more years of wins. We deserve better than window dressing and quick fixes.
An example of a quick fix in recent weeks was the City-County Council's Proposal 258 to address food insecurity. This is a major problem facing Indianapolis' urban communities where primarily black and brown people live.
From a business perspective, a company that doesn't have customers has to close its doors—I get that. Yet from a city-planning and community-building standpoint, a company that provides necessary resources needs to be sustained for those people as best as is possible. We need a vision and plan for a long-term fix. What we're seeing now is more of a Band-Aid on a bullet wound than a suture that will strengthen and heal over time.
It's not OK to have food deserts. It's not OK to know that black unemployment is double white unemployment and keep going because it's collectively low. It's also not OK for black homicide to continue to grow while crime overall has gone down and to count that as a win. My community is hurting, our neighborhoods are losing value, and it's all being discounted and hidden under otherwise strong economic numbers.
The next council and mayor have a lot of work ahead of them—we're not going to get there with a commercial featuring current Mayor Joe Hogsett and Hudnut that blurs the line and confuses voters with the idea that the two men shared the same level of vision.
Is it a Hudnut ad or a Hogsett ad? Why confuse voters? We deserve better. With the many mixed messages that can be found online, in social media or in banner ads about politics, it should not be OK for local leaders to send confusing messages.
Our media literacy should not be challenged by local leaders we've grown to trust on the surface level. Hudnut was a transformative visionary leader who took Indianapolis beyond its wildest dreams and put a spotlight on Indianapolis that we'd never had.
We deserve truth in storytelling that shares the facts from candidates: What have you done, what will you do, and how can the community support you in getting it done? That's it. National politics are already messy enough, and the need to fact-check is at an all-time high. We shouldn't have to do it locally for city leaders we've grown to trust.
We just deserve better. Let's keep this race clean and full of substance people can use in their day-to-day lives and not worry about political gains. Just worry about honoring the legacy of the built city by sustaining its future.•
__________
Slash is a diversity and inclusion consultant in the health care industry and is president of The Exchange at the Indianapolis Urban League.Send comments to ibjedit@ibj.com.

Click here for more Forefront columns.
Please enable JavaScript to view this content.