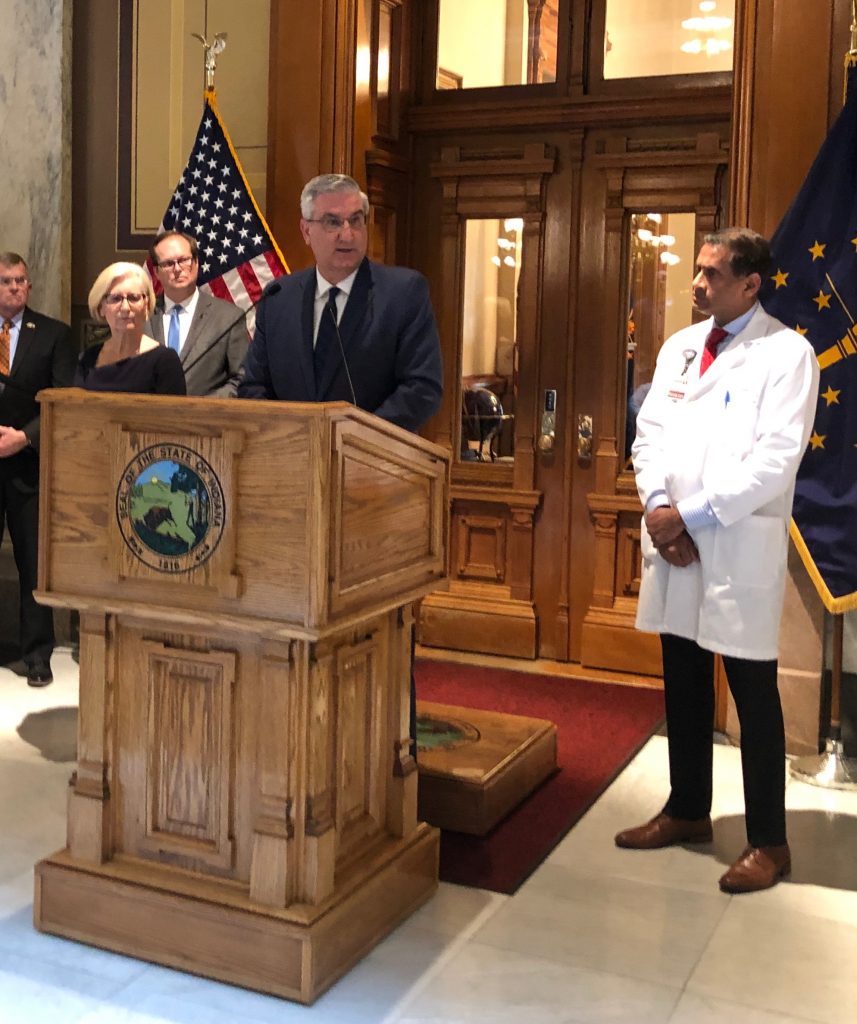 Gov. Eric Holcomb wasn't mincing words.
Under the hot glare of television lights, before dozens of reporters and spectators at the Indiana Statehouse on Monday afternoon, Holcomb began talking of war, combat and a long, hard, struggle ahead.
"We are—make no mistake about it—at war with COVID-19," he declared.
Moments earlier, Holcomb had announced a somber milestone in the fight: the death of the first person from Indiana from the COVID-19, the disease sweeping the world, spread by a novel coronavirus. The patient was a Marion County resident who had died hours earlier at an undisclosed Community Health hospital.
Indiana has recorded 30 positive cases of COVID-19 through Monday, and more deaths are likely coming, Holcomb said.
"Sadly, we knew it would happen," he said. "We anticipate it will again."
Holcomb's presence at the press conference—flanked by more than a dozen top-level state officials—seemed equal parts intended to calm a worried state and to push Hoosiers to follow his plan for getting through a difficult time. Around the United States, the number of coronavirus infections continues to rise into the thousands, and public officials are feeling increasing pressure to respond.
In the past week, Holcomb had stayed mostly out of the limelight and issued orders more slowly than some neighboring governors. By Sunday, officials in at least 22 states, including all of Indiana's neighbors, had closed schools statewide. The governors of Ohio and Illinois on Sunday ordered restaurants and bars closed through March 30, with the exception of takeout and delivery orders.
On Monday morning, Holcomb followed suit and ordered Indiana restaurants, bars and nightclubs to close through the end of March, except for takeout and delivery services. Holcomb also ordered the Indiana State Museum and Historic Sites to close.
In addition, he strongly advised hospitals and ambulatory service centers to cancel or postpone elective and non-urgent surgical procedures, steps many of them had already begun taking.
While some other states have closed their schools statewide, Holcomb's said that under current guidelines, 273 of the state's public school districts have closed or plan to close while still providing instruction through e-learning. The other 16 districts are working with the Department of Education to "determine their next steps and needs."
Still, Holcomb called for Hoosiers to help him keep the coronavirus from spreading.
"To those who think that we may be overreacting, I can assure you that we are not," Holcomb said. "Indiana is under a public health emergency."
The single best tactic, he and health officials said, was to avoid crowds and to stay home.
Dr. Kris Box, Indiana's state health commissioner, said she expects to see cases of COVID-19 grow in coming weeks.
"This is why that is it is absolutely imperative that Hoosiers follow the governor's guidance," she said. "Stay informed. Please avoid gatherings of over 50 people, and most important, stay at home."
Dr. Virginia Caine, director of the Marion County Public Health Department, doubled down on that theme. "I cannot stress enough how important it is for residents to practice social distancing. Stay home as much as possible and wash your hands frequently."
At the press conference, several people asked whether businesses and workers could get assistance to make up for what is sure to be a big financial hit.
Holcomb said the Department of Workforce Development has suspended rules that require people applying for unemployment insurance to physically appear at state offices.
The DWD also has requested flexibility under state and federal rules to expand eligibility for claimants and ease burdens on employers.
Although many details arising from the discussion were technical—how to file for unemployment benefits, what the state is doing to acquire additional respirators for hospitals, the size of gatherings allowed at certain events—a pall hung over the press conference due to the death of the first Indiana resident from the disease.
Dr. Ram Yeleti, chief physician executive at Community Health Network, pleaded with the public to take steps to slow the spreading of the virus.
"This is the beginning," he said. "This is real."
Just 11 days ago, Holcomb and Box had gathered reporters to announce the state's first positive case of COVID-19. Now, in alarming speed, state officials are staring down a growing epidemic that they said could claim many other lives.
In the meantime, huge sporting events have been canceled, colleges and universities have sent students home, theaters have canceled productions, the Indianapolis Zoo said it was closing to the public indefinitely, the IndyCar racing series is contemplating whether to postpone the Indy 500, and many employers have ordered many employees to work remotely.
Also on Monday, Mayor Joe Hogsett and the Marion County Public Health Department issued orders prohibiting all gatherings of 50 or more people and extending closings to gyms, fitness centers, theaters and entertainment centers.
In the face of such head-spinning developments, Holcomb sought to calm the state while urging residents to get on board with his battle plan.
"We will win this war, but it requires us on a daily if not hourly basis, to be nimble enough, agile enough to update our battle plan," Holcomb said. "When I say us, I mean all of us, each doing their part."
And how long will that take? Many of his orders and guidelines only go through the end of March.
Holcomb did not sugarcoat the answer. Getting the epidemic under control could take a month, two months, three months—maybe longer. It was impossible to say.
And at a press conference in Washington, D.C., on Monday, President Trump said getting control of the coronavirus could last through July or August.
Around the country, other officials were taking similar steps. The governors of New York, New Jersey and Connecticut announced in a joint statement that casinos, gyms and movie theaters had to shut down, along with many nonessential businesses such as bars and restaurants.
Holcomb wasn't making any promises about how long it would take for things to return to normal in Indiana.
"Hoosiers should be prepared," he said, "for this to last as long as it lasts."
Please enable JavaScript to view this content.