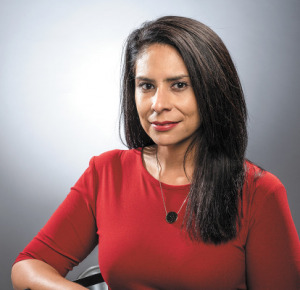 Embattled Marion County Prosecutor Ryan Mears now has a Republican challenger. Cyndi Carrasco, former deputy general counsel for Gov. Eric Holcomb, announced her campaign Tuesday.
"It's not a decision that I came to lightly," Carrasco told IBJ. "… The reality is that our community is facing a public safety crisis, and we deserve better."
"The prosecutor is the county's top public safety official," Carrasco added, "and should be the one leading the way to make our city safe: setting the tone, working with stakeholders to curb the violence—working with the courts, working with law enforcement—holding violent and repeat criminals accountable, being a better advocate for our victims."
Carrasco, who moved to Indianapolis from El Paso, Texas, in 2003, has spent her career until now with the state of Indiana. After law school, she joined Indiana's Office of the Inspector General as a staff attorney, then was named executive director of the Ethics Commission within that office. Later, Carrasco was appointed inspector general herself, before becoming deputy general counsel for the Governor's Office.
"I want to take all those things that I've learned—all of my experience, all of my skills, all of my leadership lessons—and I want to bring them home to make my community safe for my family and families across the county," she said.
Carrasco, who knocked Mears' relationships with law enforcement, community organizations and his own staff, said her first priority would be relationship-building.
"'I've heard from law enforcement across the county; I've talked to them," Carrasco said. "They don't feel that they're supported."
Her second priority, she said, would be to reverse what she called a "mass exodus" of prosecutorial staff. She didn't say how many people had left the Prosecutor's Office.
"Certainly, there's been a shift in the philosophical approach to prosecuting crimes," she said. "That's my best guess as to what is driving a lot of people leaving the Prosecutor's Office. It's not necessarily the pay; it's just that they can't do the job that they love, which is [to] feel like they can, you know, be prosecutors."
A spokesman for the Prosecutor's Office told IBJ in an email that salaries "significantly lower than prosecutors' offices in surrounding counties, not to mention the earning potential in the private sector," are to blame for a longtime turnover problem, adding that the office has "not been immune to the recent staffing challenges reflected in every industry nationwide."
Mears has also come under fire for a recent policy of not prosecuting simple possession of marijuana, and a perception of leniency on repeat offenders amid record-breaking violence. Indianapolis recorded an all-time high of 271 homicides in 2021.
But his biggest controversy has been his approach to Indiana's red-flag law, which lets law enforcement seize weapons from people they deem dangerous, and prevents those people from buying more.
A December story in The Indianapolis Star said that "Mears and his deputies chose not to file more than 100 red flag cases that legal experts—including the judge who oversees such cases—say they were required to file."
The red-flag controversy started last April after a 19-year-old gunman killed eight people at a FedEx facility near Indianapolis International Airport before turning his rifle on himself. A year before, the Prosecutor's Office didn't seek a red-flag hearing that could've prevented the man from buying additional weapons. After the mass shooting, Mears said the law didn't afford prosecutors enough time to request evidence, and that he'd worried an adverse ruling would force authorities to return the weapon they'd confiscated.
"Unfortunately, the FedEx tragedy is one of the clearest examples that really demonstrates the prosecutor's failed leadership," Carrasco said. "The family begged for the eventual shooter to be prevented from buying weapons, and the tools were there, and the prosecutor did nothing."
"If I were to have the honor of being elected prosecutor, I would very much focus on any preventative measure that is available to the office to prevent something like this, and I would ensure that every case is filed timely, and that I would at least be in a position to say that I've at least tried," she added.
Though Carrasco emphasized a belief in addressing root causes of crime and said she was "a huge supporter and fan" of problem-solving courts, she also highlighted the role of repeat offenses in making charging decisions.
"There's a way for us to strike a balance," she said. "The pendulum has swung too far to the other extreme, and it was at a whole other extreme a few years back. I believe that there's a way for us to get that pendulum back in the middle."
Please enable JavaScript to view this content.