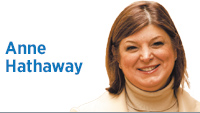 As I watch Gov. Eric Holcomb begin his campaign for re-election, I couldn't be more excited—not only for what he has already achieved in his first 2-1/2 years as governor but also for his vision for Indiana today, tomorrow and in the future. This is a guy who absolutely loves his job, loves our state, and wakes up each day tirelessly solving problems and finding ways to take care of all Hoosiers.
Every elected official has detractors, but even my Democratic friends have admitted to me that the guy they didn't know much about when he became lieutenant governor and then governor in 2016 has done a pretty darn good job.
Because of Holcomb's leadership and enthusiasm for our state, we are not only in much better shape than other states but in fact we are the state others envy. As most know, I have been a longtime friend and supporter of the governor and I had every confidence his leadership would bring together Hoosiers from every corner of the state no matter their party affiliation—and he has done just that.
So, what has Holcomb accomplished in his first term?
◗ Increased K-12 education funding by more than $1 billion.
◗ Invested in roads and infrastructure. Indiana is home to one of the nation's only fully funded infrastructure plans—$32 billion invested over the next 20 years.
◗ Maintained Indiana's fiscal strength by signing Indiana's eighth straight balanced budget.
◗ Raised Hoosier wages with 2018 job commitments averaging 20% above the state average wage.
◗ Doubled down on his Next Level Jobs plan to help more Hoosiers skill up to fill in-demand, high-wage jobs across the state.
◗ Exempted military pensions from state income tax.
◗ Modernized state government to provide greater service and value to all Hoosier taxpayers.
◗ Piloted programs to address infant mortality, school safety and early childhood education.
◗ Taken Indiana to the world and brought the world to Indiana by increasing international investment in Indiana more than 300%.
And he's just getting started. Over the course of the campaign, Holcomb will share his vision for the next term, but we already know he will continue to talk about:
◗ Protecting Indiana's AAA-rated state economy.
◗ Recruiting, attracting and training a 21st century workforce.
◗ Ensuring that every Hoosier will reside within an hour's drive of treatment for opioid addiction.
◗ Implementing the $32 billion infrastructure plan for state/local roads and bridges over the next 20 years.
◗ Connecting Indianapolis and Evansville by completing I-69 three years sooner than expected.
◗ Moving forward with the West Lake expansion and double tracking the South Shore Line rail project.
◗ Promoting public health and continuing to attack the drug epidemic.
Frankly, I don't have enough space to complete the list of what the governor is discussing with workers, leaders and families as he travels the state. As Hoosiers, we all tend to be a little competitive and I am confident that Indiana with Eric Holcomb as governor will continue to be a national and international leader. As he says, "We will put people first and take Indiana to the next level."•
__________
Hathaway is president and CEO of Hathaway Strategies, chairwoman of the Julian Center board and former chief of staff of the Republican National Committee. Send comments to ibjedit@ibj.com.

Click here for more Forefront columns.
Please enable JavaScript to view this content.