State officials have named a new point person for the agency charged with helping grow Indiana's defense sector and are folding the agency into Indiana Economic Development Corp., which leads efforts to help businesses locate and expand in the state.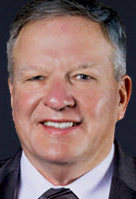 Gov. Eric Holcomb announced on Monday that the Indiana Office of Defense Development—created in 2013 to spearhead a more strategic approach to enhancing the state's defense industry—would become a business unit of the IEDC.
In addition, Holcomb has appointed Major General Omer C. Tooley to lead defense development. Tooley will leave his current role as CEO and board chairman of the Indianapolis-based National Center for Complex Operations to take the new position.
Prior to joining the private sector in 2016, Tooley served as an Assistant Adjutant General-Army of the Indiana National Guard and was responsible for the development of the Atterbury-Muscatatuck Center for Complex Operations. He served in the U.S. military for 41 years.
In his new role as president of defense development, Tooley will be responsible for promoting the state's defense assets, assisting in business development, and attracting and supporting defense-related industry partnerships.
As part of these efforts, Tooley will coordinate all defense-focused resources and programs, including the Indiana Procurement Technical Assistance Center. He also will coordinate directly with industry stakeholders like the Commanders Roundtable, Indiana Defense Task Force and Indiana Chapter of the National Defense Industrial Association.
"I look forward to supporting our state's critical security assets, building on Indiana's defense development efforts, and collaborating with industry, government and academic partners to drive growth and increase our competitiveness in the defense sector," Tooley said in a media release.
He will start with the IEDC on Aug. 26.
Danielle Chrysler, appointed as the director of IODD in 2017, resumed active military duty earlier this year.
"We look forward to Danielle re-joining this growing team following her service," said Abby Gras, vice president of communications for the IEDC.
Please enable JavaScript to view this content.