Indiana Gov. Eric Holcomb is pleading with the public: Stay home and keep your distance from others.
During his daily press conference Wednesday afternoon, Holcomb tried to appeal to those who feel like they won't get sick, by encouraging them to think about the first responders and health care professionals, or the employees at the grocery store who are constantly exposed to shoppers, or senior citizens who are vulnerable to the disease.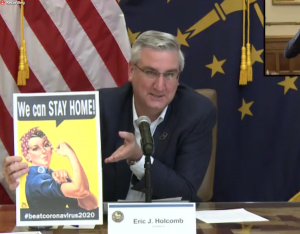 "I plead with you: Don't gamble with your own life and don't gamble with others," Holcomb said.
The governor said he knows social distancing can be inconvenient, but it's the only way the state will be able to slow the spread of the novel coronavirus. As of Wednesday, the state had 2,565 positive cases of COVID-19, and 1,117 of those were in Marion County.
To help with the stay-at-home effort, Holcomb on Wednesday announced a new campaign called "IN this together."
"We're going to get through this a lot faster together," Holcomb said. "It's that simple and yet profound."
The campaign already has broad support from a coalition of business and community leaders across the state, including Eli Lilly and Co., Indiana University, Purdue University, the Indiana Pacers and the Indianapolis Colts. Indianapolis Mayor Joe Hogsett is also part of the effort.
The goal is to spread information about the importance of staying home; avoiding close physical contact with others; calling a physician if you feel sick; staying connected to loved ones through video chats, phone calls, social media or text messages; taking care of your own health and mental well-being; and supporting the community in virtual ways like virtual tutoring or donating to the Central Indiana Economic Relief Fund.
The campaign already has a website—INthistogethercampaign.com—and is using #INthistogether on social media platforms. Eli Lilly is funding the effort—no state dollars are being used for it.
"The message today is spread the word, don't spread the virus," Lilly CEO David Ricks said during the conference. "Let's have a great social distancing effort during this period and make a difference for all Hoosiers."
The move comes after Holcomb previously said he believed most Hoosiers were listening to the two-week stay-at-home order that is in place through April 7 and following social distancing guidelines.
Holcomb said on Wednesday that he was not ready to extend that stay-at-home order yet or reconsider the long list of businesses that were considered "essential" and allowed to continue operations.
"We evaluate this by the hour," Holcomb said. "If something needs to change today or tomorrow, we'll make that call."
Holcomb said a new time frame for the stay-at-home order and for how long schools will be closed is expected within the coming days. All K-12 schools are currently closed until May 1.
And state officials continued to stress on Wednesday that Indiana has not yet hit its peak for the number of positive cases.
"We're looking way up at the peak," Holcomb said. "So I don't want anyone to get complacent or think that this is soon to be in our rear-view mirror."
Please enable JavaScript to view this content.