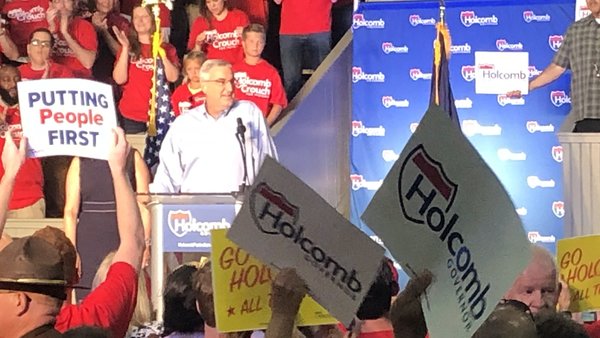 Gov. Eric Holcomb says he wants to hang another banner.
The 51-year-old Republican announced his re-election campaign with a slogan of "Putting People First" on Saturday at the historic Hoosier Gym in Knightstown, where the movie "Hoosiers" was filmed.
He told the crowd of several hundred supporters, including a handful of Republican state lawmakers and members of Indiana's congressional delegation, that he wanted to keep cutting down nets and keep hanging banners.
"My friends, and what feels like a great big Hoosier family, we have come so far," Holcomb said. "But we did not come this far to only to come this far. And as much as we've done, we're going do even more."
During his 20-minute speech, Holcomb talked about creating jobs, expanding education opportunities, improving the state's infant mortality rate and investing in infrastructure, specifically accelerating the timeline to finish Interstate 69 between Indianapolis and Bloomington and upgrading the rest of U.S. 31 between Indianapolis and South Bend to highway standards. "You can finally put it on cruise control," Holcomb said. "That is going to be a true freeway, once and for all."
Holcomb was initially elected in 2016 over Democrat John Gregg after a 100-day campaign launched after then-Gov. Mike Pence was tapped to be now-President Donald Trump's running mate.
Holcomb became lieutenant governor in March 2016 after Pence's 2012 running mate, Sue Ellspermann, resigned from office. He was also the 2008 campaign manager and top aide for then-Gov. Mitch Daniels, who made him the state Republican Party chairman in 2011. He left that position in mid-2013 to become U.S. Sen. Dan Coats' state chief of staff.
During his time in office, Holcomb has put a strong focus on workforce development and created the Governor's Workforce Cabinet to address employment and business issues throughout the state.
He has also made investing in road and technology infrastructure a priority over the past three years and pushed for the hate crimes law that he signed earlier this year, although some say it didn't go far enough.
He maintains high approval ratings, even among some Democrats, and has mostly avoided controversy during his first term. According to data from Morning Consult, 49% of voters approve of Holcomb, but 29% say they have never heard of him.
Holcomb said his campaign is going to be focused on people and their success stories.
"I know together, we're going to wage that different kind of campaign," Holcomb said. "One that addresses our challenges head-on. One that connects Hoosiers of all walks of life with the resources and skills that they need to succeed."
Lt. Gov. Suzanne Crouch will be his running mate.
"I know no one that connects more with people than Eric Holcomb," Crouch said.
So far, one Democrat has announced plans to run against him. Woody Myers, a former state health commissioner and former Anthem Inc. chief medical officer, launched his campaign on Wednesday in Indianapolis.
Please enable JavaScript to view this content.