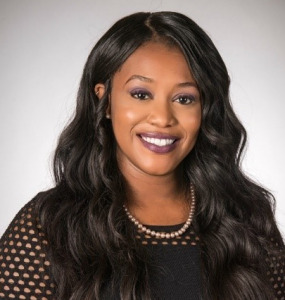 Karrah Herring, the director of public affairs for the University of Notre Dame, has been selected as the state's first chief equity, inclusion and opportunity officer, Indiana Gov. Eric Holcomb announced Thursday afternoon.
Holcomb announced plans to create the new cabinet-level position in August after promising to address issues of racial inequality and injustice in June as protests and riots over George Floyd's death in Minneapolis broke out across Indiana and other states.
Herring, who will report directly to Holcomb, will be responsible for identifying shortcomings in administration and finding ways to fix those gaps and remove any barriers for minorities to work for state agencies.
Herring has worked at the University of Notre Dame since 2011, including as director of public affairs since 2018. Prior to that position, she served on the university's human resource's senior leadership team as director of the Office of Institutional Equity and Title IX coordinator.
She helped the university with civil rights laws compliance, created the university's affirmative action plans, oversaw Title VII and Title IX workplace investigations and created workplace harassment prevention training.
"My goal is to better build diversity and foster an inclusive environment within state government and the services we provide so every Hoosier can take full advantage of their gifts and potential," Holcomb said in a written statement. "Karrah will guide every state agency with her impressive experience at one of our state's world-renowned universities."
In addition to announcing Herring's appointment, Holcomb's office said that it has received a $250,000 contribution from the CenterPoint Energy Foundation for the state's diversity and inclusion programs and services.
But it's unclear if that money will directly pay for Herring's salary or not. A spokeswoman for Holcomb did not immediately respond to that question.
The Governor's Office said CenterPoint Energy reached out after Holcomb's announcement of the position in August to see how the company could be involved through its charitable foundation.
CenterPoint Energy is an electric utility company based in Houston. The company acquired Evansville-based Vectren Corp. last year.
Herring starts Feb. 1.
"I am honored to join Gov. Holcomb's administration and be named the state's first chief equity, inclusion and opportunity officer," Herring said in written comments. "This is an incredible opportunity to drive cultural change across state government workplaces and essential state services by increasing equity and inclusion."
Please enable JavaScript to view this content.